Within a few decades, if all goes well, patches of oaks and other native British trees will fall on the banks of the River Yealm in Devon and provide a home for owls, woodpeckers, hares and butterflies as part of a new community woodland project.
There will also be an orchard planted in a place known to be favored by bats and a wood pasture area – a more open landscape of flower-rich meadows where animals can graze and shelter around trees and shrubs.
The woods at Wembury are created as part of the Plymouth and South Devon Community Forest. The project involves a wide range of organisations, including the National Trust, the Woodland Trust and Plymouth City Council.
Over the next three years, an existing 36 hectare woodland in Wembury will be expanded by a further 84 hectares (208 acres), with 90,000 trees planted and two and a half miles of new hedges and banks.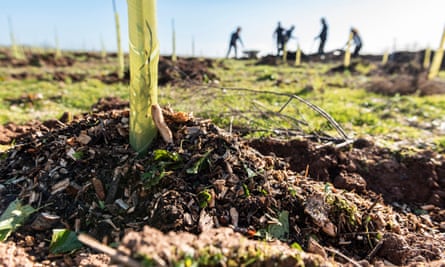 Richard Snow, the National Trust's countryside manager at Wembury, said it was the National Trust's first major community woodland project. "It's all about the right trees in the right place," he said. "A carefully planned combination of native trees and wooded pastures will create a lasting legacy."
There will be more than 25 different native tree species, dominated by oaks, native to the UK and Ireland.
As the woodland at Wembury matures, it should create new homes and corridors for wildlife, including bats, hares, small rodents and owls. Snipe, redstarts and charters, among many others, should also return along with rare migratory cloudy yellow butterflies.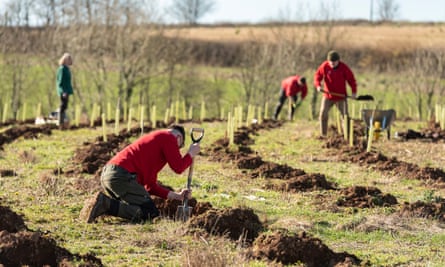 The area of ​​Wembury has long been a place of pilgrimage for artists from JMW Turner, who sketched here in 1813, and 20th century writer John Galsworthy, whose visit inspired elements of The Forsyte Saga. The area is also the site of an old naval gunnery school and was used during the filming of the parody The Comic Strip Presents Five Go Mad on Mescalin.
It is part of the Plymouth and South Devon Community Forest, which will stretch from the heart of the city to the edge of Dartmoor, encompassing 1,900 hectares (4,695 acres) of land to form a patchwork of different woodland and woodland habitats.
Ross Kennerley, South West Regional Director of the Woodland Trust, said: "The UK's forest cover currently stands at 13%. We need to hit 19% if the UK is to reach its net zero carbon target by 2050."
The project is funded by the UK Government's Trees for Climate programme.