Scotland's biggest teaching union said it has yet to receive information on an improved pay offer it hopes will end further staff strikes.
The Education Institute of Scotland (EIS) union has been embroiled in a pay dispute with the Scottish Government and the Assembly of Scottish Local Authorities (COSLA) over the past year.
They have several strikes has already taken place across the country with many more planned – including targeted action – since previous talks did not lead to an agreement.
Unions have so far rejected a pay offer that would have seen most teachers receive a 5% pay rise, although the lowest paid would receive a 6.85% increase.
The Scottish Government has consistently argued that the money is not there to meet the Union's 10% demand.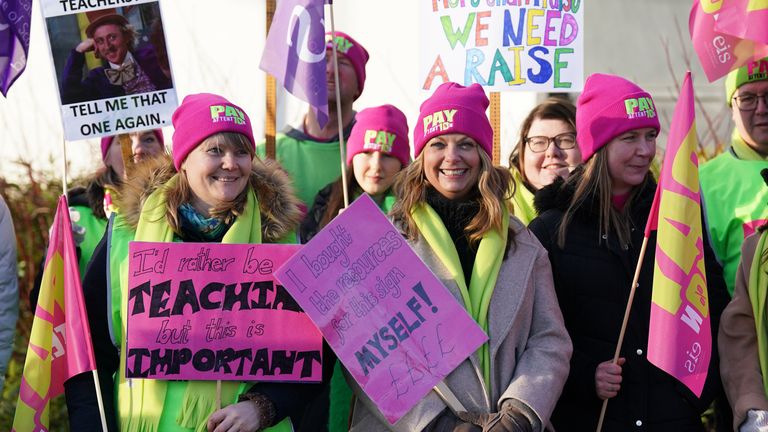 "I hope union colleagues will take it back to their members"
On Monday, Education Secretary Shirley-Anne Somerville claimed teachers would be offered a new "fair and affordable" deal within the next few days.
He added: "If we can get this offer on the table, I hope that trade unionists will take it back to their members so that this dispute can be resolved without further disruption to the education of children and young people.
"I will repeat my call for unions to suspend industrial action while talks continue."
However, the EIS said it has yet to receive information on what the offer looks like and only a "significant improvement" would end industrial action Scotland.
Read more:
Nicola Sturgeon and John Swinney's constituencies to be hit by 'targeted' teacher strikes
Scottish teachers 'will not back down' on strike action
Nicola Sturgeon hits out at Tory 'hypocrisy' over teacher strikes
"We've been here before"
After 500,000 workers strike for better pay, our panel of guests discuss possible solutions to avoid future walkouts

An EIS spokesman said: "EIS does not currently have information on the details of the proposed new offer, although we are aware of recent statements from the Scottish Government and COSLA.
"If there is a new and improved offer, it will be given due consideration by the EIS Salaries Committee.
"It is important to emphasize that we have been here before.
"If this proposed new offer is a real improvement and something we could realistically offer members, that would be a welcome development.
"If, however, it's just more muddled at the ends of the formula we saw in the last offer, and if it doesn't include a significant improvement on the 5% previously offered, that's likely to further anger teachers and prolong the current row."