Jim Goodwin has been appointed as Dundee United's new manager until the end of the season, just a month after being sacked by Aberdeen.
The 41-year-old replaces Liam Fox at Tannadice following his sacking Defeated 4-0 in the Scottish Premiership by Ross County.
United are four points back at the bottom of the table, albeit with a game in hand, but haven't won in the league since January 2.
Goodwin becomes the club's third manager in the postseason Jack Ross sent off in wake of their 9-0 humiliation at home to Celtic last August.
His first game in charge this weekend will be against the Dons, who fired him at the end of January Scottish Cup exit from sixth division Darvel was followed by a 6-0 Scottish Premiership defeat at Hibernian.
Speaking to the club's official website, Goodwin said: "I am delighted to be given the opportunity to manage this wonderful club which has a rich history and passionate fans.
"I recognize the job at hand – the only aim for the rest of the season is to maintain our Premiership status.
"I realize it's a huge task, but I wouldn't have taken the job if I didn't believe in the players, the staff and my own ability to be successful here. I'm incredibly excited to start my journey with Dundee United."
Chairman Mark Ogren added: "Along with fellow board members Scott Ogren and Jimmy Fyffe, I have wholehearted confidence that Jim is the man to lead us through this vital part of the season.
"As soon as we spoke I could feel his desire and hunger to succeed for Dundee United. His knowledge of the league and the opposition was a big factor and he really impressed the board with his passion for the challenge we face.
"As a club, I would ask everyone of the Mandarin persuasion to rally behind his leadership of the team as we look to finish the season on a positive note."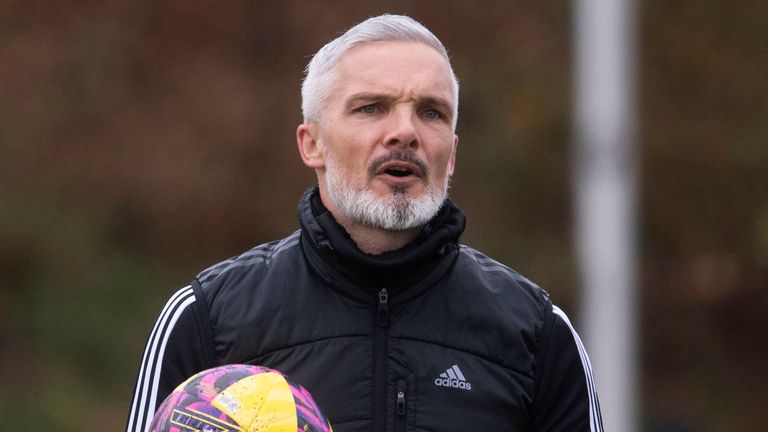 Dundee United's next five games
Aberdeen (n) – March 4 (6pm)
Livingstone (a) – March 8 (7.45pm)
St Mirren (h) – March 18 (3pm)
Rangers (a) – 1 April (3pm)
Hibernian (h) – April 9 (12pm) – live on Sky Sports
Walker: The club needs to restore some confidence
Sky Sports pundit Andy Walker believes Dundee United need to win back their fans after a turbulent season:
"Look at what happened at Motherwell, they got rid of Steven Hummel and immediately got a new manager in Stuart Kettlewell and I think Dundee United are looking for something similar.
"They really need to get back to building trust with their supporters, which has been lost for much of the season.
"United need a positive result, some of their football was awful, some of the goals they conceded were really embarrassing.
"A new manager comes in, a new approach and direction, maybe a little change or two and I wouldn't rule out Dundee United surviving, they would just need a win or two to get back into that little pack above them.
"I don't think they're out yet, but they need to show a level of commitment and fighting spirit that the fans are desperate to see."
It needs "much correction".
Highlights from Dundee United's 4-0 defeat at Ross County which led to Liam Fox's departure

Days after Fox's departure, Dundee United announced on Tuesday that sporting director Tony Asghar had also left following fan protests against him and owner Mark Orgen.
Former Dundee United defender Mark Wilson believes the club face a huge job to resolve issues off the pitch as well.
He said Sky Sports News: "Certainly things are not good with Dundee United from top to bottom. Just last week at the AGM the owner confronted America and made some points that the fans didn't agree with and gathered outside the stadium.
"It makes it a difficult environment to work in and if the results don't match what the fans expect then, ultimately, it ends one way and that's the manager.
"I feel for Liam Fox but I feel when Dundee United see the changes they've made some teams will regret it. Ross County made signings in the January window and it shows, Motherwell have changed managers and it shows.
"Dude United have to do something if they want to survive this season.
"It will take a lot of fixing to get Dundee United right, but if you get the right manager with 12 games to go, you have every chance of surviving, so take it from there in the summer."
Scottish Premiership matches live on Sky Sports confirmed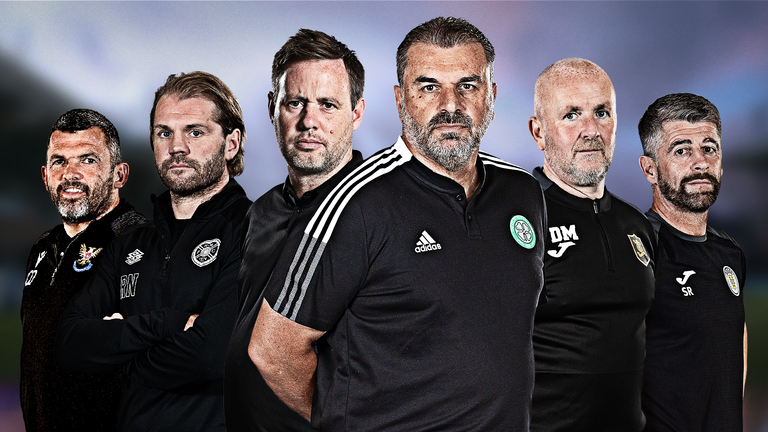 Sunday March 5: St Mirren vs Celtic, kick-off 12pm
Saturday, March 18: Motherwell vs Rangers, 12.30pm kick-off
Sunday, April 2: Ross County vs Celtic, kick-off 12pm
Saturday April 8: Celtic v Rangers, kick-off at 12.30
Sunday April 9: Dundee United v Hibernian, kick-off 12:00
Scottish Premiership & SWPL on Sky Sports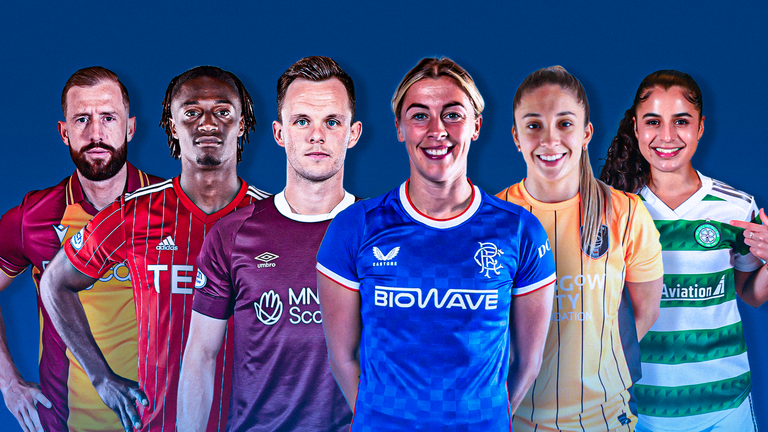 Sky Sports – This season up to 48 cinch Premiership games will be available on Sky Sports' flagship channels, including Sky Sports Football and Sky Sports Main Event, as well as at least five SWPL matches. From 2024/25, up to 60 Premiership matches will be live on Sky Sports, in addition to the SWPL.
Sky Sports News – Running 24 hours a day, seven days a week, Scottish football fans can enjoy Sky Sports News (channel 409) rolling editorial coverage of the cinch Premiership and SWPL throughout the season.
Sky Sports Digital – Follow all the latest from Scottish football on skysports.com and the app, including exclusive features and interviews, plus exclusive live blog coverage, in-game clips from matches live on Sky Sports and free highlights.
Sky Sports Social – Alongside coverage and exposure for the league across all of Sky Sports' main social media channels, the personalized Twitter feed @ScotlandSky will continue to be the home of all Scottish football content on Sky Sports.
Highlights show – Tune in for an exclusive look back from the Premiership cinch every week on Sky Sports Football.
To download the Sky Sports app click here, to visit the Sky Sports website click here.
Sky Sports is the home of domestic football in the UK and Ireland, with over 400 matches per season across the SPFL, SWPL, Premier League, WSL and EFL.