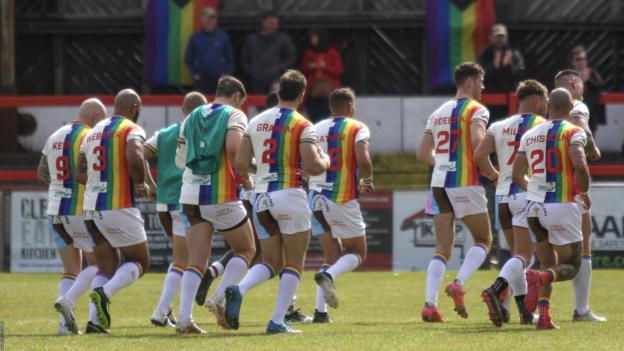 It's the mid-1990s and the West Yorkshire town of Keighley has been hit by 'Cougarmania'.
The local rugby team has had a remarkable run since Mick O'Neil, Mike Smith and Neil Spencer joined the board and began the rebranding, winning title after title in front of enthusiastic crowds at a ground which, just a few years earlier, had fallen into disrepair. ruin.
But as the Cougars play out a sports fairytale on the field, the president's son struggles with a nightmare.
"I would go to bed and say a prayer: 'Please God, don't let anyone know I'm gay,'" Ryan O'Neill recalled.
A young boy, lying in his room thinking about things that are all too familiar to many in the LGBTQ+ community.
Never in those darkest hours did O'Neill imagine he would date, or marry, or become the second member of his family to save Keighley Cougars from the brink of extinction.
Nor did he think the club he loved would become a bastion of inclusion, where the LGBTQ+ flag flies year-round.
But remarkably, that's exactly what happened.
"We said it would be an exciting journey, so we did it!"
While rugby league was built into O'Neill's DNA, the same could not be said for Kaue Garcia.
"Being Brazilian, I hadn't heard anything about the sport," he says with a laugh.
"But Ryan and I have been married for 10 years and obviously I know the stories of Cougarmania – and if you go on YouTube, you see the vibe and everything they've done."
However, with their lives in London and a successful business running, that was about as far as the couple's relationship with the Cougars went – until O'Neill heard the club was in danger of closing its doors for good.
"I thought this would be absolutely tragic," says O'Neill.
"I knew what the club meant to the community. He had added so much positivity to the city and I could see that was what was missing.
"The Cougars were the only thing in the '90s that was really successful, and Kaue and I thought we had a chance to do what my dad did again.
"We said it would be an exciting journey, so we did it!
"I thought we could make an impact, but it was extremely dangerous"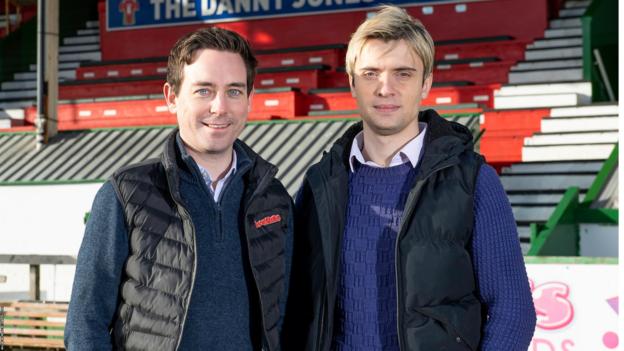 O'Neill and Garcia admit they didn't realize the scale of what they signed up for when they bought the club in January 2019.
"The bar was deserted and the team manager came over and immediately gave me an invoice for kit for about £25,000," recalls O'Neill.
"We had about 12 players, so we had to get a team together for the next week – and suddenly we realized what a monumental task we had taken on!"
What was originally planned as a short stay in a budget hotel stretched out for weeks as Garcia and O'Neill remained in Keighley, working to complete the work needed to keep the club running.
But they also had a bigger vision for the Cougars that put LGBTQ+ inclusion at the heart of everything they did.
"Keighley is a really unique setting – a former mill town in West Yorkshire where I was struggling to come to terms with my sexuality," says O'Neill.
"I thought we could make an impact here, but it was extremely dangerous because the fans didn't know us and it's a traditional sport."
"I was waiting for the rainbow flags to be thrown in the bin"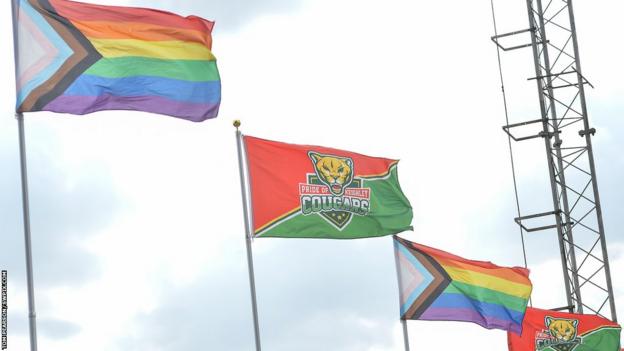 Despite these concerns, the pair continued with their plans to try and make rugby league a more welcoming place for the LGBTQ+ community.
Six months after O'Neill and Garcia took charge the Cougars made history when they took on the West Wales Raiders in front of a crowd of more than 2,000 in the first Pride game British professional sport had ever seen.
Cougars players wore a special kit that raised money for LGBTQ+ charities and a drag queen took to the field to entertain the fans gathered at Cougar Park.
And while the match was a clear success, the pair admit they were taking a leap into the unknown by even proposing such a game.
"We were nervous," says Garcia.
"The instructions I got from Ryan when we first started going to Keighley were, 'We can't hold our hands up north, it's not as open as London.' He warned me about it, so it was worrying.
"We imagined the consequences if the crowd didn't support us or people didn't come, but it was actually the biggest turnout we've had because people ignored it.
"Everyone who came to the Pride game was given a rainbow flag," adds O'Neill.
"I was expecting them to be thrown in the bin, but walking on the terraces and seeing young children and old people waving them in this setting was so moving. They had embraced it immediately.
"By saving the club, we had built credibility with the fans. They were grateful for what we did and had taken us to their hearts."
"We need to bring these people together and hopefully change their minds"
The Cougars have hosted two more Pride games since 2019, with plans for one more this season.
Throw in the tens of thousands of pounds the club has raised for LGBTQ+ charities and it would be tempting to call Garcia and O'Neill's commitment to inclusivity an unqualified success and wrap up the story.
But that wouldn't be the truth.
"We've had new fans come in who haven't been with us since the beginning," says O'Neill.
"They don't know us or what we did for Keighley, so they just see a rugby club run by two gay men, and I'm starting to see negative comments and some slightly homophobic comments directed at Kaue and me.
"It made me realize that we need to hammer home the message of inclusion to new fans who don't necessarily have that mindset.
"We have to be smart about it, because we don't want any negativity."
Finding ways to bring these fans together is something the couple is already thinking about.
But in many ways, it pales in comparison to the challenge Garcia and O'Neill have already overcome – which is simply having the strength to be themselves at a time when so few club owners are out or open to their sexuality.
"We're proud of what we've done," says O'Neill.
"I never dreamed of coming out when I was with the Cougars in the 90s and now I'm basically the biggest gay in the clubhouse!
"And we always keep the rainbow flags up all year round to get that message out – which is that Keighley is for everyone."
Keighley Cougars owners Kaue Garcia and Ryan O'Neill were speaking to Jack Murley on the BBC's LGBT Sport Podcast. You can hear new episodes every Wednesday on BBC Sounds.