Sir Jim Ratcliffe has bid for 69% of Manchester United after bids were submitted before Friday's deadline.
Sixty-nine percent is exactly the amount currently owned by the Glazers. The family would not be involved if Sir Jim Ratcliffe were to buy the club.
Ratcliffe may also seek to buy the remaining shares, which are traded on the New York Stock Exchange, in the future.
Although there is no mention of infrastructure in his statement, Sky Sports News understands Ratcliffe is committed to redeveloping Old Trafford.
As previously reported, he is believed to be working with Goldman Sachs and JP Morgan – but any debts from the takeover will not be offloaded to the club, as was the case with the Glazers.
Ratcliffe is a Manchester United fan but also tried to buy Chelsea last summer.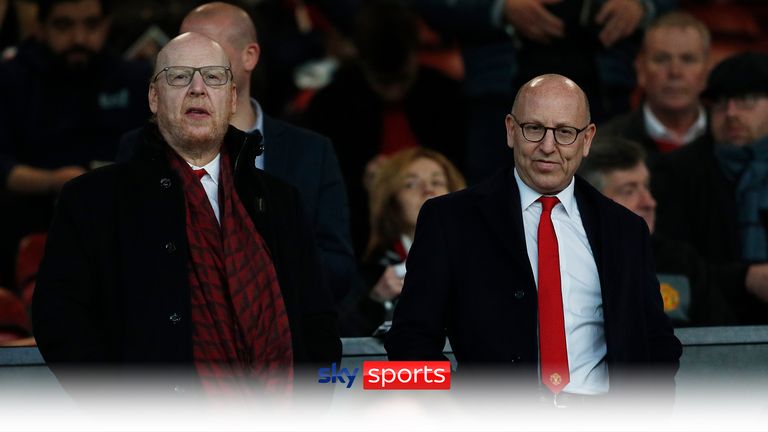 His company, multinational petrochemicals INEOS, has also been accused of greenwashing – using sport to improve their corporate image and reputation.
Ratcliffe also owns the INEOS Grenadiers cycling team, Ligue 1 side Nice, FC Lausanne-Sport, a Swiss Super League club, and owns a third of the Mercedes Formula 1 team.
Meanwhile, Qatar's Sheikh Hamad bin Jassim bin Jaber Al Thani has attended other United games at Old Trafford.
He is confident that he has made a compelling offer and that he is not connected to Qatar Sports Investments (QSI) nor the Qatar Investment Authority (QIA).
Kaveh Solhekol gives the latest after Qatar's Sheikh Jassim Bin Hamad Al Thani made a 'significant' bid for Manchester United.

It was revealed on Saturday night that US hedge fund Elliott Management had also submitted a bid for Manchester United to the Raine Group ahead of Friday's late 10pm deadline.
The proposal is not an offer for Manchester United, but a proposal for possible funding.
The proposal could involve Elliott taking a stake in United or providing debt financing or a combination of both.
The Glazer family is seeking a full or partial sale or partnership with a third party. Elliott manages assets worth £46bn and owned AC Milan from 2018 to August last year.
MUST notes concerns about debt levels and human rights records
Telegraph Chief Football Correspondent Jason Burt and Daily Mail North-East Football Correspondent Craig Hope discuss the bids made for Manchester United

The Manchester United Supporters Trust (MUST) issued a statement as bids for the club are considered, reiterating the demands they have made in the past for any new owners.
They also note concerns about the debt levels and human rights records of any new owners.
The statement read: "MUST has been very clear about our list of demands for any new owner of Manchester United.
"These were to bring the club back to the top of European football, invest in the teams, the wider club and the pitch, ensure financial stability and work in true partnership with the fans at all times.
"These principles have been supported to date by 150 fan groups from around the world. The open letter to bidders has already been published.
"Any offer will be judged on these criteria, but with news of specific offers coming in for further consideration.
"There are questions about sporting integrity given the extremely close links between some bidders and the owners of other European clubs, including PSG and Nice.
"There are also questions about whether any bids will also be based on high levels of debt. We also note the importance of any owner respecting the rights of all people, particularly women and the LGBTQ+ community. Concerns have been raised by other fan groups which we fully support .
"We encourage all bidders to engage in dialogue with supporters' groups alongside the bidding process with the club to discuss their proposals, including the above issues.
"Finally, everyone can see the progress the team is making under Erik ten Hag. After the disappointments of the last decade, it is clear that huge strides are being made. Any prospective bidder must make an explicit commitment to support Erik and his plans for restoration United in glory'.
What does the Ineos property look like in Nice?
ESPN's Julien Laurens on The Transfer Show last month:
"Ineos bought Nice in August 2019 for €100 million. The intentions were very good, to be fair.
"You can see he wants to do well. The investment was good. On the scale of Ligue 1 and Nice, they spent €200 million in those three and a half years he was at the club.
"Before Man Utd fans say we should spend in one summer not three years, Nice don't have the revenue that Man Utd has. Ligue 1 doesn't bring in the same money as the Premier League. You have to remember the scale.
"They have invested a lot of money in new players and to some extent it has worked. However, in terms of results on the pitch, it was somewhat underwhelming.
"They finished sixth in the first season under Patrick Vieira, ninth and then fifth under Christophe Galtier, who left to join PSG. Then this season is bad right now because that's the thing, Sir Jim Ratcliffe made some wrong choices. Lucien Favre was brought in as coach and it was a mistake.
"Obviously he's still learning, but you can't deny that Ratcliffe loves football and I think he wants to do well at every club he has."
Analysis: Sportswashing vs Greenwashing?
Sky Sports chief reporter Kaveh Solhekol provides an update on the current Manchester United deals

Sky Sports News' Kaveh Solhekol:
"We have two owners fighting for Manchester United. I think there will be developments and we will hear about more bidders, but these are very different offers. Qatar, people who have almost unlimited wealth, who don't even need the backing of investment banks to does this deal – and then we have Sir Jim Ratcliffe who will highlight the fact that he is British, that he was born in Greater Manchester, that he has been a Manchester United supporter all his life.
"The Qataris say they want to make Manchester United great again, I think Sir Jim will say, 'I want to put Manchester back into Manchester United' and it is important that Manchester United, a great English institution is owned by an English businessman.
"If the battle turns out to be between Qatar and INEOS, will it be sportswashing versus greenwashing?
"Qatar will have serious questions to answer about human rights, LGBTQ+ rights and also the ownership structure of the bid.
"INEOS will have questions to answer about whether it uses sporting acquisitions to clean up its image as an operator of polluting industries."