Referee: Michael Salisbury
Assistant referees: Gary Beswick and Simon Long
Fourth Official: David Webb
VAR: Simon Hooper
Assistant VAR: Sian Massey-Ellis

","elementId":"f2995e92-fd33-4bca-81fb-54ab469e2233″},{"_type":"model.dotcomrendering.pageElements.ImageBlockElement","media":{"allImages":[{"index":0,"fields":{"height":"2399″,"width":"4000″},"mediaType":"Image","mimeType":"image/jpeg","url":"https://media.guim.co.uk/d1ff159dc63d49293b1eacdf2729562dacb37508/0_262_4000_2399/4000.jpg"},{"index":1,"fields":{"isMaster":"true","height":"2399″,"width":"4000″},"mediaType":"Image","mimeType":"image/jpeg","url":"https://media.guim.co.uk/d1ff159dc63d49293b1eacdf2729562dacb37508/0_262_4000_2399/master/4000.jpg"},{"index":2,"fields":{"height":"1200″,"width":"2000″},"mediaType":"Image","mimeType":"image/jpeg","url":"https://media.guim.co.uk/d1ff159dc63d49293b1eacdf2729562dacb37508/0_262_4000_2399/2000.jpg"},{"index":3,"fields":{"height":"600″,"width":"1000″},"mediaType":"Image","mimeType":"image/jpeg","url":"https://media.guim.co.uk/d1ff159dc63d49293b1eacdf2729562dacb37508/0_262_4000_2399/1000.jpg"},{"index":4,"fields":{"height":"300″,"width":"500″},"mediaType":"Image","mimeType":"image/jpeg","url":"https://media.guim.co.uk/d1ff159dc63d49293b1eacdf2729562dacb37508/0_262_4000_2399/500.jpg"},{"index":5,"fields":{"height":"84″,"width":"140″},"mediaType":"Image","mimeType":"image/jpeg","url":"https://media.guim.co.uk/d1ff159dc63d49293b1eacdf2729562dacb37508/0_262_4000_2399/140.jpg"}]},"data":{"alt":"Michael Salisbury will be refereeing a match involving West Ham for the first time tonight.","caption":"Michael Salisbury will be refereeing a match involving West Ham for the first time tonight. ","credit":"Photograph: MI News/NurPhoto/REX/Shutterstock"},"displayCredit":true,"role":"inline","imageSources":[{"weighting":"inline","srcSet":[{"src":"https://i.guim.co.uk/img/media/d1ff159dc63d49293b1eacdf2729562dacb37508/0_262_4000_2399/master/4000.jpg?width=620&quality=85&auto=format&fit=max&s=349476c0722ddbc154c70c5c4b270499″,"width":620},{"src":"https://i.guim.co.uk/img/media/d1ff159dc63d49293b1eacdf2729562dacb37508/0_262_4000_2399/master/4000.jpg?width=620&quality=45&auto=format&fit=max&dpr=2&s=f7c8ec7970ddf9d53fbff36ae9a9afe6″,"width":1240},{"src":"https://i.guim.co.uk/img/media/d1ff159dc63d49293b1eacdf2729562dacb37508/0_262_4000_2399/master/4000.jpg?width=605&quality=85&auto=format&fit=max&s=a7fcfdb30b9eba8f81c97379dbe81165″,"width":605},{"src":"https://i.guim.co.uk/img/media/d1ff159dc63d49293b1eacdf2729562dacb37508/0_262_4000_2399/master/4000.jpg?width=605&quality=45&auto=format&fit=max&dpr=2&s=33a159752745f71503aa33d317ea5be8″,"width":1210},{"src":"https://i.guim.co.uk/img/media/d1ff159dc63d49293b1eacdf2729562dacb37508/0_262_4000_2399/master/4000.jpg?width=445&quality=85&auto=format&fit=max&s=2c548d26ef76e5193f55fdedf79c39ac","width":445},{"src":"https://i.guim.co.uk/img/media/d1ff159dc63d49293b1eacdf2729562dacb37508/0_262_4000_2399/master/4000.jpg?width=445&quality=45&auto=format&fit=max&dpr=2&s=af465c919ba5973555032e1d0d8b2347″,"width":890}]},{"weighting":"thumbnail","srcSet":[{"src":"https://i.guim.co.uk/img/media/d1ff159dc63d49293b1eacdf2729562dacb37508/0_262_4000_2399/master/4000.jpg?width=140&quality=85&auto=format&fit=max&s=a763e93d51869b0c25bb1e35f0e730ae","width":140},{"src":"https://i.guim.co.uk/img/media/d1ff159dc63d49293b1eacdf2729562dacb37508/0_262_4000_2399/master/4000.jpg?width=140&quality=45&auto=format&fit=max&dpr=2&s=582b066404a299bdeb1ffef42088000a","width":280},{"src":"https://i.guim.co.uk/img/media/d1ff159dc63d49293b1eacdf2729562dacb37508/0_262_4000_2399/master/4000.jpg?width=120&quality=85&auto=format&fit=max&s=0c2e8e42a63aaff94fabe2e36df9cc9b","width":120},{"src":"https://i.guim.co.uk/img/media/d1ff159dc63d49293b1eacdf2729562dacb37508/0_262_4000_2399/master/4000.jpg?width=120&quality=45&auto=format&fit=max&dpr=2&s=02d7ad0ccbeeda126a0b39f9dbff7aec","width":240}]},{"weighting":"supporting","srcSet":[{"src":"https://i.guim.co.uk/img/media/d1ff159dc63d49293b1eacdf2729562dacb37508/0_262_4000_2399/master/4000.jpg?width=380&quality=85&auto=format&fit=max&s=5f36f43cd0c79dffb7c9961405c5e9d4″,"width":380},{"src":"https://i.guim.co.uk/img/media/d1ff159dc63d49293b1eacdf2729562dacb37508/0_262_4000_2399/master/4000.jpg?width=380&quality=45&auto=format&fit=max&dpr=2&s=ed46a9b137c686fb9a5671821c574fa7″,"width":760},{"src":"https://i.guim.co.uk/img/media/d1ff159dc63d49293b1eacdf2729562dacb37508/0_262_4000_2399/master/4000.jpg?width=300&quality=85&auto=format&fit=max&s=d35430baf3de65da52ac478bad4c5366″,"width":300},{"src":"https://i.guim.co.uk/img/media/d1ff159dc63d49293b1eacdf2729562dacb37508/0_262_4000_2399/master/4000.jpg?width=300&quality=45&auto=format&fit=max&dpr=2&s=37be7ddd8c8ba309a08e41d2daf3ed8e","width":600},{"src":"https://i.guim.co.uk/img/media/d1ff159dc63d49293b1eacdf2729562dacb37508/0_262_4000_2399/master/4000.jpg?width=620&quality=85&auto=format&fit=max&s=349476c0722ddbc154c70c5c4b270499″,"width":620},{"src":"https://i.guim.co.uk/img/media/d1ff159dc63d49293b1eacdf2729562dacb37508/0_262_4000_2399/master/4000.jpg?width=620&quality=45&auto=format&fit=max&dpr=2&s=f7c8ec7970ddf9d53fbff36ae9a9afe6″,"width":1240},{"src":"https://i.guim.co.uk/img/media/d1ff159dc63d49293b1eacdf2729562dacb37508/0_262_4000_2399/master/4000.jpg?width=605&quality=85&auto=format&fit=max&s=a7fcfdb30b9eba8f81c97379dbe81165″,"width":605},{"src":"https://i.guim.co.uk/img/media/d1ff159dc63d49293b1eacdf2729562dacb37508/0_262_4000_2399/master/4000.jpg?width=605&quality=45&auto=format&fit=max&dpr=2&s=33a159752745f71503aa33d317ea5be8″,"width":1210},{"src":"https://i.guim.co.uk/img/media/d1ff159dc63d49293b1eacdf2729562dacb37508/0_262_4000_2399/master/4000.jpg?width=445&quality=85&auto=format&fit=max&s=2c548d26ef76e5193f55fdedf79c39ac","width":445},{"src":"https://i.guim.co.uk/img/media/d1ff159dc63d49293b1eacdf2729562dacb37508/0_262_4000_2399/master/4000.jpg?width=445&quality=45&auto=format&fit=max&dpr=2&s=af465c919ba5973555032e1d0d8b2347″,"width":890}]},{"weighting":"showcase","srcSet":[{"src":"https://i.guim.co.uk/img/media/d1ff159dc63d49293b1eacdf2729562dacb37508/0_262_4000_2399/master/4000.jpg?width=860&quality=85&auto=format&fit=max&s=57ce8291acb0e041a50130e083d8f56c","width":860},{"src":"https://i.guim.co.uk/img/media/d1ff159dc63d49293b1eacdf2729562dacb37508/0_262_4000_2399/master/4000.jpg?width=860&quality=45&auto=format&fit=max&dpr=2&s=3c9ed0499056aa746058a65bd3976361″,"width":1720},{"src":"https://i.guim.co.uk/img/media/d1ff159dc63d49293b1eacdf2729562dacb37508/0_262_4000_2399/master/4000.jpg?width=780&quality=85&auto=format&fit=max&s=1a7a7987822565feba4674c14b6b6071″,"width":780},{"src":"https://i.guim.co.uk/img/media/d1ff159dc63d49293b1eacdf2729562dacb37508/0_262_4000_2399/master/4000.jpg?width=780&quality=45&auto=format&fit=max&dpr=2&s=74a84ecf3c3121ee2354004420a8af41″,"width":1560},{"src":"https://i.guim.co.uk/img/media/d1ff159dc63d49293b1eacdf2729562dacb37508/0_262_4000_2399/master/4000.jpg?width=620&quality=85&auto=format&fit=max&s=349476c0722ddbc154c70c5c4b270499″,"width":620},{"src":"https://i.guim.co.uk/img/media/d1ff159dc63d49293b1eacdf2729562dacb37508/0_262_4000_2399/master/4000.jpg?width=620&quality=45&auto=format&fit=max&dpr=2&s=f7c8ec7970ddf9d53fbff36ae9a9afe6″,"width":1240},{"src":"https://i.guim.co.uk/img/media/d1ff159dc63d49293b1eacdf2729562dacb37508/0_262_4000_2399/master/4000.jpg?width=605&quality=85&auto=format&fit=max&s=a7fcfdb30b9eba8f81c97379dbe81165″,"width":605},{"src":"https://i.guim.co.uk/img/media/d1ff159dc63d49293b1eacdf2729562dacb37508/0_262_4000_2399/master/4000.jpg?width=605&quality=45&auto=format&fit=max&dpr=2&s=33a159752745f71503aa33d317ea5be8″,"width":1210},{"src":"https://i.guim.co.uk/img/media/d1ff159dc63d49293b1eacdf2729562dacb37508/0_262_4000_2399/master/4000.jpg?width=445&quality=85&auto=format&fit=max&s=2c548d26ef76e5193f55fdedf79c39ac","width":445},{"src":"https://i.guim.co.uk/img/media/d1ff159dc63d49293b1eacdf2729562dacb37508/0_262_4000_2399/master/4000.jpg?width=445&quality=45&auto=format&fit=max&dpr=2&s=af465c919ba5973555032e1d0d8b2347″,"width":890}]},{"weighting":"halfwidth","srcSet":[{"src":"https://i.guim.co.uk/img/media/d1ff159dc63d49293b1eacdf2729562dacb37508/0_262_4000_2399/master/4000.jpg?width=620&quality=85&auto=format&fit=max&s=349476c0722ddbc154c70c5c4b270499″,"width":620},{"src":"https://i.guim.co.uk/img/media/d1ff159dc63d49293b1eacdf2729562dacb37508/0_262_4000_2399/master/4000.jpg?width=620&quality=45&auto=format&fit=max&dpr=2&s=f7c8ec7970ddf9d53fbff36ae9a9afe6″,"width":1240},{"src":"https://i.guim.co.uk/img/media/d1ff159dc63d49293b1eacdf2729562dacb37508/0_262_4000_2399/master/4000.jpg?width=605&quality=85&auto=format&fit=max&s=a7fcfdb30b9eba8f81c97379dbe81165″,"width":605},{"src":"https://i.guim.co.uk/img/media/d1ff159dc63d49293b1eacdf2729562dacb37508/0_262_4000_2399/master/4000.jpg?width=605&quality=45&auto=format&fit=max&dpr=2&s=33a159752745f71503aa33d317ea5be8″,"width":1210},{"src":"https://i.guim.co.uk/img/media/d1ff159dc63d49293b1eacdf2729562dacb37508/0_262_4000_2399/master/4000.jpg?width=445&quality=85&auto=format&fit=max&s=2c548d26ef76e5193f55fdedf79c39ac","width":445},{"src":"https://i.guim.co.uk/img/media/d1ff159dc63d49293b1eacdf2729562dacb37508/0_262_4000_2399/master/4000.jpg?width=445&quality=45&auto=format&fit=max&dpr=2&s=af465c919ba5973555032e1d0d8b2347″,"width":890}]},{"weighting":"immersive","srcSet":[{"src":"https://i.guim.co.uk/img/media/d1ff159dc63d49293b1eacdf2729562dacb37508/0_262_4000_2399/master/4000.jpg?width=1900&quality=85&auto=format&fit=max&s=bda822f45de52531905a102b889cd4b9″,"width":1900},{"src":"https://i.guim.co.uk/img/media/d1ff159dc63d49293b1eacdf2729562dacb37508/0_262_4000_2399/master/4000.jpg?width=1900&quality=45&auto=format&fit=max&dpr=2&s=81be49b1aedab8d40741b9b1e4fc2041″,"width":3800},{"src":"https://i.guim.co.uk/img/media/d1ff159dc63d49293b1eacdf2729562dacb37508/0_262_4000_2399/master/4000.jpg?width=1300&quality=85&auto=format&fit=max&s=914619b186bbe62c6f7ace3497a1c816″,"width":1300},{"src":"https://i.guim.co.uk/img/media/d1ff159dc63d49293b1eacdf2729562dacb37508/0_262_4000_2399/master/4000.jpg?width=1300&quality=45&auto=format&fit=max&dpr=2&s=f212b2c446da75bf6ddf42379d0b4abb","width":2600},{"src":"https://i.guim.co.uk/img/media/d1ff159dc63d49293b1eacdf2729562dacb37508/0_262_4000_2399/master/4000.jpg?width=1140&quality=85&auto=format&fit=max&s=43aba97bd16f5b018fe39aea590ff86c","width":1140},{"src":"https://i.guim.co.uk/img/media/d1ff159dc63d49293b1eacdf2729562dacb37508/0_262_4000_2399/master/4000.jpg?width=1140&quality=45&auto=format&fit=max&dpr=2&s=806ca328ad50fab2d0bbd3aa1d60257f","width":2280},{"src":"https://i.guim.co.uk/img/media/d1ff159dc63d49293b1eacdf2729562dacb37508/0_262_4000_2399/master/4000.jpg?width=980&quality=85&auto=format&fit=max&s=b07a5dde1e14f82fc68b9722d9afc287″,"width":980},{"src":"https://i.guim.co.uk/img/media/d1ff159dc63d49293b1eacdf2729562dacb37508/0_262_4000_2399/master/4000.jpg?width=980&quality=45&auto=format&fit=max&dpr=2&s=1a6d1d0145854f7f4b3633cdb11e41dc","width":1960},{"src":"https://i.guim.co.uk/img/media/d1ff159dc63d49293b1eacdf2729562dacb37508/0_262_4000_2399/master/4000.jpg?width=740&quality=85&auto=format&fit=max&s=c9eb7918597c17760873debfe303396f","width":740},{"src":"https://i.guim.co.uk/img/media/d1ff159dc63d49293b1eacdf2729562dacb37508/0_262_4000_2399/master/4000.jpg?width=740&quality=45&auto=format&fit=max&dpr=2&s=387fedf2425a2595f440cf95a7eff9e9″,"width":1480},{"src":"https://i.guim.co.uk/img/media/d1ff159dc63d49293b1eacdf2729562dacb37508/0_262_4000_2399/master/4000.jpg?width=660&quality=85&auto=format&fit=max&s=2c6ae0c8aed0901868f7fb5df36a8014″,"width":660},{"src":"https://i.guim.co.uk/img/media/d1ff159dc63d49293b1eacdf2729562dacb37508/0_262_4000_2399/master/4000.jpg?width=660&quality=45&auto=format&fit=max&dpr=2&s=ebbd16db867c2080bad2b65fd98714a1″,"width":1320},{"src":"https://i.guim.co.uk/img/media/d1ff159dc63d49293b1eacdf2729562dacb37508/0_262_4000_2399/master/4000.jpg?width=480&quality=85&auto=format&fit=max&s=0a83b385e2a62c5c2dcfbd3567141c5f","width":480},{"src":"https://i.guim.co.uk/img/media/d1ff159dc63d49293b1eacdf2729562dacb37508/0_262_4000_2399/master/4000.jpg?width=480&quality=45&auto=format&fit=max&dpr=2&s=e95959feb783799b7f082abc4f22764d","width":960}]}],"elementId":"f44300ff-7b28-4066-9901-5703d32e95b6″}],"attributes":{"pinned":false,"keyEvent":true,"summary":false},"blockCreatedOn":1677695779000,"blockCreatedOnDisplay":"18.36 GMT","blockLastUpdated":1677695803000,"blockLastUpdatedDisplay":"18.36 GMT","blockFirstPublished":1677695803000,"blockFirstPublishedDisplay":"18.36 GMT","blockFirstPublishedDisplayNoTimezone":"18.36″,"title":"Tonight's match officials","contributors":[],"primaryDateLine":"Wed 1 Mar 2023 18.46 GMT","secondaryDateLine":"First published on Wed 1 Mar 2023 18.36 GMT"},{"id":"63ff56ae8f08e6fa0007b5d0″,"elements":[{"_type":"model.dotcomrendering.pageElements.TextBlockElement","html":"

Donny van de Beek, Anthony Martial and Christian Eriksen all remain sidelined and in the United treatment room, while Fred and Luke Shaw are in doubt following the Carabao Cup final and are due to undergo late fitness tests. They may not be risked tonight ahead of United's visit to Liverpool in the Premier League on Sunday.

","elementId":"ef949520-a471-47e8-af54-cd6c87cdf61b"},{"_type":"model.dotcomrendering.pageElements.TextBlockElement","html":"

Maxwel Cornet is still out with a calf injury, while in-form January signing Danny Ings can't play tonight as he's Cup-tied after representing Aston Villa in the competition earlier this season. Kurt Zouma is back in training after a spell on the sidelines but is not fit enough to play. Full-back Vladimir Coufal has been ruled out with a heel injury, while goalkeeper Lucasz Fabianski won't feature after suffering a fractured cheekbone and eyesocket during West Ham's win over Forest.

","elementId":"208b4961-64bc-442c-b51c-7a0cb295fca5″}],"attributes":{"pinned":false,"keyEvent":true,"summary":false},"blockCreatedOn":1677695779000,"blockCreatedOnDisplay":"18.36 GMT","blockLastUpdated":1677695792000,"blockLastUpdatedDisplay":"18.36 GMT","blockFirstPublished":1677695793000,"blockFirstPublishedDisplay":"18.36 GMT","blockFirstPublishedDisplayNoTimezone":"18.36″,"title":"Early team news","contributors":[],"primaryDateLine":"Wed 1 Mar 2023 18.46 GMT","secondaryDateLine":"First published on Wed 1 Mar 2023 18.36 GMT"},{"id":"63ff18dd8f08112894f380cd","elements":[{"_type":"model.dotcomrendering.pageElements.TextBlockElement","html":"

With the Carabao Cup in the bag following their win over Newcastle at Wembley on Sunday, Manchester United host West Ham with a quarter-final spot in the FA Cup up for grabs.

","elementId":"d5ef3734-788c-457c-bdb0-dab8c8a17b05″},{"_type":"model.dotcomrendering.pageElements.TextBlockElement","html":"

The odds are stacked against the visitors, who are battling against the drop from the Premier League and have won on just one of their 20 most recent visits to Old Trafford. Following their 4-0 demolition of Nottingham Forest at the weekend, however, they will arrive in Manchester full of confidence.

","elementId":"6d76c37b-ff14-4aa7-818a-a95f6e463161″},{"_type":"model.dotcomrendering.pageElements.TextBlockElement","html":"

Kick-off at Old Trafford is at 7.45pm (GMT) but stay tuned in the meantime for team news and build-up.

","elementId":"fbbfc2d1-4585-480d-8fa6-564e9a53bc90″},{"_type":"model.dotcomrendering.pageElements.ImageBlockElement","media":{"allImages":[{"index":0,"fields":{"height":"3355″,"width":"5032″},"mediaType":"Image","mimeType":"image/jpeg","url":"https://media.guim.co.uk/fb01c51cd5bf0538823e1b302a426e10315e3407/0_0_5032_3355/5032.jpg"},{"index":1,"fields":{"isMaster":"true","height":"3355″,"width":"5032″},"mediaType":"Image","mimeType":"image/jpeg","url":"https://media.guim.co.uk/fb01c51cd5bf0538823e1b302a426e10315e3407/0_0_5032_3355/master/5032.jpg"},{"index":2,"fields":{"height":"1333″,"width":"2000″},"mediaType":"Image","mimeType":"image/jpeg","url":"https://media.guim.co.uk/fb01c51cd5bf0538823e1b302a426e10315e3407/0_0_5032_3355/2000.jpg"},{"index":3,"fields":{"height":"667″,"width":"1000″},"mediaType":"Image","mimeType":"image/jpeg","url":"https://media.guim.co.uk/fb01c51cd5bf0538823e1b302a426e10315e3407/0_0_5032_3355/1000.jpg"},{"index":4,"fields":{"height":"333″,"width":"500″},"mediaType":"Image","mimeType":"image/jpeg","url":"https://media.guim.co.uk/fb01c51cd5bf0538823e1b302a426e10315e3407/0_0_5032_3355/500.jpg"},{"index":5,"fields":{"height":"93″,"width":"140″},"mediaType":"Image","mimeType":"image/jpeg","url":"https://media.guim.co.uk/fb01c51cd5bf0538823e1b302a426e10315e3407/0_0_5032_3355/140.jpg"}]},"data":{"alt":"Old Trafford, where tonight's FA Cup fifth round tie between Manchester United and West Ham will be played.","caption":"Old Trafford, where tonight's FA Cup fifth round tie between Manchester United and West Ham will be played. ","credit":"Photograph: Marc Atkins/Getty Images"},"displayCredit":true,"role":"inline","imageSources":[{"weighting":"inline","srcSet":[{"src":"https://i.guim.co.uk/img/media/fb01c51cd5bf0538823e1b302a426e10315e3407/0_0_5032_3355/master/5032.jpg?width=620&quality=85&auto=format&fit=max&s=0999970440a4acee757913a358a6e681″,"width":620},{"src":"https://i.guim.co.uk/img/media/fb01c51cd5bf0538823e1b302a426e10315e3407/0_0_5032_3355/master/5032.jpg?width=620&quality=45&auto=format&fit=max&dpr=2&s=28f8ba0ce3aa23666029d4bd51fcf95f","width":1240},{"src":"https://i.guim.co.uk/img/media/fb01c51cd5bf0538823e1b302a426e10315e3407/0_0_5032_3355/master/5032.jpg?width=605&quality=85&auto=format&fit=max&s=07378ccca0533254b3b8e1ea5f4ded6f","width":605},{"src":"https://i.guim.co.uk/img/media/fb01c51cd5bf0538823e1b302a426e10315e3407/0_0_5032_3355/master/5032.jpg?width=605&quality=45&auto=format&fit=max&dpr=2&s=e4cd1bd3730fadfd3e0ea6f3b6195a8c","width":1210},{"src":"https://i.guim.co.uk/img/media/fb01c51cd5bf0538823e1b302a426e10315e3407/0_0_5032_3355/master/5032.jpg?width=445&quality=85&auto=format&fit=max&s=a36a045b4afe59f182f439c160997b13″,"width":445},{"src":"https://i.guim.co.uk/img/media/fb01c51cd5bf0538823e1b302a426e10315e3407/0_0_5032_3355/master/5032.jpg?width=445&quality=45&auto=format&fit=max&dpr=2&s=b4631a7b006b3f0af6de08f705d04e3d","width":890}]},{"weighting":"thumbnail","srcSet":[{"src":"https://i.guim.co.uk/img/media/fb01c51cd5bf0538823e1b302a426e10315e3407/0_0_5032_3355/master/5032.jpg?width=140&quality=85&auto=format&fit=max&s=d1d50aaa3f00a36c25b6214b9d4887dc","width":140},{"src":"https://i.guim.co.uk/img/media/fb01c51cd5bf0538823e1b302a426e10315e3407/0_0_5032_3355/master/5032.jpg?width=140&quality=45&auto=format&fit=max&dpr=2&s=9cbcb31171c750c6ed394b504fc2e316″,"width":280},{"src":"https://i.guim.co.uk/img/media/fb01c51cd5bf0538823e1b302a426e10315e3407/0_0_5032_3355/master/5032.jpg?width=120&quality=85&auto=format&fit=max&s=a1b0470944ac8763c1408a6b4123933b","width":120},{"src":"https://i.guim.co.uk/img/media/fb01c51cd5bf0538823e1b302a426e10315e3407/0_0_5032_3355/master/5032.jpg?width=120&quality=45&auto=format&fit=max&dpr=2&s=20c1db14bdf2dcc70a97e545e03aaff6″,"width":240}]},{"weighting":"supporting","srcSet":[{"src":"https://i.guim.co.uk/img/media/fb01c51cd5bf0538823e1b302a426e10315e3407/0_0_5032_3355/master/5032.jpg?width=380&quality=85&auto=format&fit=max&s=b1bd79ca5b9a3d31e785577b5faec15d","width":380},{"src":"https://i.guim.co.uk/img/media/fb01c51cd5bf0538823e1b302a426e10315e3407/0_0_5032_3355/master/5032.jpg?width=380&quality=45&auto=format&fit=max&dpr=2&s=358e175f7181e0175474eff154a01585″,"width":760},{"src":"https://i.guim.co.uk/img/media/fb01c51cd5bf0538823e1b302a426e10315e3407/0_0_5032_3355/master/5032.jpg?width=300&quality=85&auto=format&fit=max&s=732ee9b7680562ac5bed8835de65e53f","width":300},{"src":"https://i.guim.co.uk/img/media/fb01c51cd5bf0538823e1b302a426e10315e3407/0_0_5032_3355/master/5032.jpg?width=300&quality=45&auto=format&fit=max&dpr=2&s=efbb5ebf56b146c8dfcf5264dd5b9d26″,"width":600},{"src":"https://i.guim.co.uk/img/media/fb01c51cd5bf0538823e1b302a426e10315e3407/0_0_5032_3355/master/5032.jpg?width=620&quality=85&auto=format&fit=max&s=0999970440a4acee757913a358a6e681″,"width":620},{"src":"https://i.guim.co.uk/img/media/fb01c51cd5bf0538823e1b302a426e10315e3407/0_0_5032_3355/master/5032.jpg?width=620&quality=45&auto=format&fit=max&dpr=2&s=28f8ba0ce3aa23666029d4bd51fcf95f","width":1240},{"src":"https://i.guim.co.uk/img/media/fb01c51cd5bf0538823e1b302a426e10315e3407/0_0_5032_3355/master/5032.jpg?width=605&quality=85&auto=format&fit=max&s=07378ccca0533254b3b8e1ea5f4ded6f","width":605},{"src":"https://i.guim.co.uk/img/media/fb01c51cd5bf0538823e1b302a426e10315e3407/0_0_5032_3355/master/5032.jpg?width=605&quality=45&auto=format&fit=max&dpr=2&s=e4cd1bd3730fadfd3e0ea6f3b6195a8c","width":1210},{"src":"https://i.guim.co.uk/img/media/fb01c51cd5bf0538823e1b302a426e10315e3407/0_0_5032_3355/master/5032.jpg?width=445&quality=85&auto=format&fit=max&s=a36a045b4afe59f182f439c160997b13″,"width":445},{"src":"https://i.guim.co.uk/img/media/fb01c51cd5bf0538823e1b302a426e10315e3407/0_0_5032_3355/master/5032.jpg?width=445&quality=45&auto=format&fit=max&dpr=2&s=b4631a7b006b3f0af6de08f705d04e3d","width":890}]},{"weighting":"showcase","srcSet":[{"src":"https://i.guim.co.uk/img/media/fb01c51cd5bf0538823e1b302a426e10315e3407/0_0_5032_3355/master/5032.jpg?width=860&quality=85&auto=format&fit=max&s=3f9ba3c09dc12e7263c38e84600e452e","width":860},{"src":"https://i.guim.co.uk/img/media/fb01c51cd5bf0538823e1b302a426e10315e3407/0_0_5032_3355/master/5032.jpg?width=860&quality=45&auto=format&fit=max&dpr=2&s=204391196826cde9e6915f713f024734″,"width":1720},{"src":"https://i.guim.co.uk/img/media/fb01c51cd5bf0538823e1b302a426e10315e3407/0_0_5032_3355/master/5032.jpg?width=780&quality=85&auto=format&fit=max&s=50e50b9ba026b663488ea259f6d357cf","width":780},{"src":"https://i.guim.co.uk/img/media/fb01c51cd5bf0538823e1b302a426e10315e3407/0_0_5032_3355/master/5032.jpg?width=780&quality=45&auto=format&fit=max&dpr=2&s=9abfde87d69c7d634dd44357f5b80b21″,"width":1560},{"src":"https://i.guim.co.uk/img/media/fb01c51cd5bf0538823e1b302a426e10315e3407/0_0_5032_3355/master/5032.jpg?width=620&quality=85&auto=format&fit=max&s=0999970440a4acee757913a358a6e681″,"width":620},{"src":"https://i.guim.co.uk/img/media/fb01c51cd5bf0538823e1b302a426e10315e3407/0_0_5032_3355/master/5032.jpg?width=620&quality=45&auto=format&fit=max&dpr=2&s=28f8ba0ce3aa23666029d4bd51fcf95f","width":1240},{"src":"https://i.guim.co.uk/img/media/fb01c51cd5bf0538823e1b302a426e10315e3407/0_0_5032_3355/master/5032.jpg?width=605&quality=85&auto=format&fit=max&s=07378ccca0533254b3b8e1ea5f4ded6f","width":605},{"src":"https://i.guim.co.uk/img/media/fb01c51cd5bf0538823e1b302a426e10315e3407/0_0_5032_3355/master/5032.jpg?width=605&quality=45&auto=format&fit=max&dpr=2&s=e4cd1bd3730fadfd3e0ea6f3b6195a8c","width":1210},{"src":"https://i.guim.co.uk/img/media/fb01c51cd5bf0538823e1b302a426e10315e3407/0_0_5032_3355/master/5032.jpg?width=445&quality=85&auto=format&fit=max&s=a36a045b4afe59f182f439c160997b13″,"width":445},{"src":"https://i.guim.co.uk/img/media/fb01c51cd5bf0538823e1b302a426e10315e3407/0_0_5032_3355/master/5032.jpg?width=445&quality=45&auto=format&fit=max&dpr=2&s=b4631a7b006b3f0af6de08f705d04e3d","width":890}]},{"weighting":"halfwidth","srcSet":[{"src":"https://i.guim.co.uk/img/media/fb01c51cd5bf0538823e1b302a426e10315e3407/0_0_5032_3355/master/5032.jpg?width=620&quality=85&auto=format&fit=max&s=0999970440a4acee757913a358a6e681″,"width":620},{"src":"https://i.guim.co.uk/img/media/fb01c51cd5bf0538823e1b302a426e10315e3407/0_0_5032_3355/master/5032.jpg?width=620&quality=45&auto=format&fit=max&dpr=2&s=28f8ba0ce3aa23666029d4bd51fcf95f","width":1240},{"src":"https://i.guim.co.uk/img/media/fb01c51cd5bf0538823e1b302a426e10315e3407/0_0_5032_3355/master/5032.jpg?width=605&quality=85&auto=format&fit=max&s=07378ccca0533254b3b8e1ea5f4ded6f","width":605},{"src":"https://i.guim.co.uk/img/media/fb01c51cd5bf0538823e1b302a426e10315e3407/0_0_5032_3355/master/5032.jpg?width=605&quality=45&auto=format&fit=max&dpr=2&s=e4cd1bd3730fadfd3e0ea6f3b6195a8c","width":1210},{"src":"https://i.guim.co.uk/img/media/fb01c51cd5bf0538823e1b302a426e10315e3407/0_0_5032_3355/master/5032.jpg?width=445&quality=85&auto=format&fit=max&s=a36a045b4afe59f182f439c160997b13″,"width":445},{"src":"https://i.guim.co.uk/img/media/fb01c51cd5bf0538823e1b302a426e10315e3407/0_0_5032_3355/master/5032.jpg?width=445&quality=45&auto=format&fit=max&dpr=2&s=b4631a7b006b3f0af6de08f705d04e3d","width":890}]},{"weighting":"immersive","srcSet":[{"src":"https://i.guim.co.uk/img/media/fb01c51cd5bf0538823e1b302a426e10315e3407/0_0_5032_3355/master/5032.jpg?width=1900&quality=85&auto=format&fit=max&s=1b16218b10473709bebe4bb13b34f65a","width":1900},{"src":"https://i.guim.co.uk/img/media/fb01c51cd5bf0538823e1b302a426e10315e3407/0_0_5032_3355/master/5032.jpg?width=1900&quality=45&auto=format&fit=max&dpr=2&s=4f70ba9790a713d15e98272496e84c92″,"width":3800},{"src":"https://i.guim.co.uk/img/media/fb01c51cd5bf0538823e1b302a426e10315e3407/0_0_5032_3355/master/5032.jpg?width=1300&quality=85&auto=format&fit=max&s=50f822bb40ed4be1c402376f1c97d9f1″,"width":1300},{"src":"https://i.guim.co.uk/img/media/fb01c51cd5bf0538823e1b302a426e10315e3407/0_0_5032_3355/master/5032.jpg?width=1300&quality=45&auto=format&fit=max&dpr=2&s=1d1e7339c1ecd050e9b12d9ab26e8ed9″,"width":2600},{"src":"https://i.guim.co.uk/img/media/fb01c51cd5bf0538823e1b302a426e10315e3407/0_0_5032_3355/master/5032.jpg?width=1140&quality=85&auto=format&fit=max&s=46865eab9974ba4e4e6ac37bdc381860″,"width":1140},{"src":"https://i.guim.co.uk/img/media/fb01c51cd5bf0538823e1b302a426e10315e3407/0_0_5032_3355/master/5032.jpg?width=1140&quality=45&auto=format&fit=max&dpr=2&s=1fc9a30fea378c6943b0566bddbb5af9″,"width":2280},{"src":"https://i.guim.co.uk/img/media/fb01c51cd5bf0538823e1b302a426e10315e3407/0_0_5032_3355/master/5032.jpg?width=980&quality=85&auto=format&fit=max&s=df0e0031a4ad7c5316091ff6c92fa9e6″,"width":980},{"src":"https://i.guim.co.uk/img/media/fb01c51cd5bf0538823e1b302a426e10315e3407/0_0_5032_3355/master/5032.jpg?width=980&quality=45&auto=format&fit=max&dpr=2&s=a95c991732985869e7acafde5d37091e","width":1960},{"src":"https://i.guim.co.uk/img/media/fb01c51cd5bf0538823e1b302a426e10315e3407/0_0_5032_3355/master/5032.jpg?width=740&quality=85&auto=format&fit=max&s=6e97ab9df23fd1b13c9fc97394afcecc","width":740},{"src":"https://i.guim.co.uk/img/media/fb01c51cd5bf0538823e1b302a426e10315e3407/0_0_5032_3355/master/5032.jpg?width=740&quality=45&auto=format&fit=max&dpr=2&s=17d215fdf407b42e85d3bee2b4a2080d","width":1480},{"src":"https://i.guim.co.uk/img/media/fb01c51cd5bf0538823e1b302a426e10315e3407/0_0_5032_3355/master/5032.jpg?width=660&quality=85&auto=format&fit=max&s=a78659326d27076877b687ce0c469c87″,"width":660},{"src":"https://i.guim.co.uk/img/media/fb01c51cd5bf0538823e1b302a426e10315e3407/0_0_5032_3355/master/5032.jpg?width=660&quality=45&auto=format&fit=max&dpr=2&s=1845459555af688796619a0a3b7dd58e","width":1320},{"src":"https://i.guim.co.uk/img/media/fb01c51cd5bf0538823e1b302a426e10315e3407/0_0_5032_3355/master/5032.jpg?width=480&quality=85&auto=format&fit=max&s=5b38634121f18a004b9e6333e80bf0fa","width":480},{"src":"https://i.guim.co.uk/img/media/fb01c51cd5bf0538823e1b302a426e10315e3407/0_0_5032_3355/master/5032.jpg?width=480&quality=45&auto=format&fit=max&dpr=2&s=2af6277d27efb37e3575a0b9bd775f41″,"width":960}]}],"elementId":"6dda9bfe-6ac3-4ea5-99f2-28120301e345″}],"attributes":{"pinned":false,"keyEvent":true,"summary":false},"blockCreatedOn":1677695779000,"blockCreatedOnDisplay":"18.36 GMT","blockLastUpdated":1677695771000,"blockLastUpdatedDisplay":"18.36 GMT","blockFirstPublished":1677695779000,"blockFirstPublishedDisplay":"18.36 GMT","blockFirstPublishedDisplayNoTimezone":"18.36″,"title":"FA Cup fifth round: Manchester United v West Ham","contributors":[],"primaryDateLine":"Wed 1 Mar 2023 18.46 GMT","secondaryDateLine":"First published on Wed 1 Mar 2023 18.36 GMT"}],"filterKeyEvents":false,"format":{"display":0,"theme":2,"design":10},"id":"key-events-carousel-mobile"}">

Important events
Erik Ten Hag: "Of course, yesterday [Monday], the players were still enthusiastic and had to celebrate that momentum," Ten Haag said of his side's Carabao Cup win. "But yesterday, after settling down, we're back to work. What we had to do was recover and those who played less had a good training session."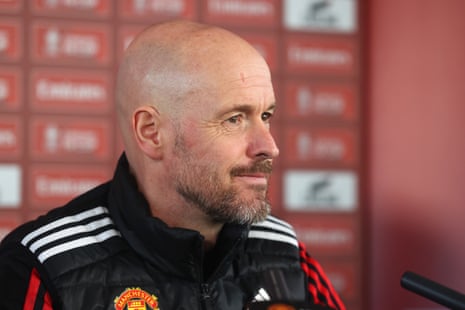 David Moyes: "I'd love to win a cup final if we could get there," the West Ham manager told the club's website in the build-up to tonight's game. "We had a great run at Everton and got to the final one year and beat the semi-final one year. I would love to be able to get West Ham into a similar position.
"Old Trafford is a really difficult game. I think we've drawn them in three of the last four years away from home in cup competitions, but that's about it. You have to play the top teams as part of the journey. We have left out Brentford and Derby County [in the FA Cup already]so our draws in this competition were very difficult because everyone was away."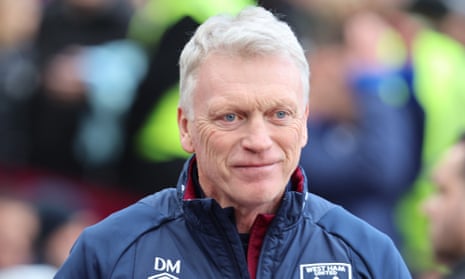 The referees of tonight's match
Referee: Michael Salisbury
Assistant Referees: Gary Beswick and Simon Long
Fourth Official: David Webb
VAR: Simon Hooper
Assistant VAR: Sian Massey-Ellis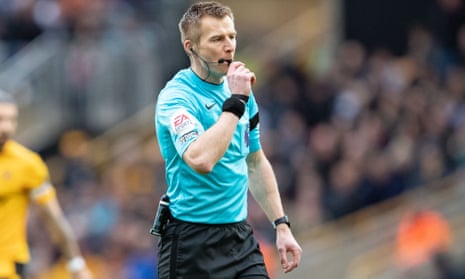 Donny van de Beek, Anthony Martial and Christian Eriksen remain out and in United's treatment room, while Fred and Luke Shaw are doubts after the Carabao Cup final and are set to undergo late fitness tests. They may take no chances tonight ahead of United's visit to Liverpool in the Premier League on Sunday.
Maxwel Cornet is still sidelined with a calf injury, while January signing Danny Ings is ruled out tonight as he is tied in the Cup after representing Aston Villa in the competition earlier this season. Kurt Zouma has returned to training after a spell on the sidelines but is not fit enough to play. Full-back Vladimir Kufal has been ruled out with a heel injury, while goalkeeper Lukasz Fabianski will miss out after suffering a fractured cheekbone and eye during West Ham's win over Forest.
FA Cup fifth round: Manchester United – West Ham
With the Carabao Cup in the bag after beating Newcastle at Wembley on Sunday, Manchester United host West Ham with an FA Cup quarter-final place up for grabs.
The odds are stacked against the visitors, who are battling relegation from the Premier League and have won just one of their last 20 visits to Old Trafford. After a 4-0 demolition of Nottingham Forest at the weekend, however, they will arrive in Manchester full of confidence.
Kick-off at Old Trafford is at 7.45pm. (GMT), but stay tuned in the meantime for team news and the build-up.