RED LETTER DAY
Manchester United takeover stories aren't what they once were. It was the time when it was all about shiny, outlandish promises that made "characters". Michael Knighton juggles footballs in front of a half-grabbing, half-burnt Stretford End, for example, promising to spend £10m (ask your grandad what that meant in 1989 money) to get on the ground. Admittedly Knighton's bid failed and he left for Carlisle, where he had some fun claiming to have seen a UFO and fell spectacularly with the local media and fans.
Knighton, meanwhile, was mentioned when Sir Jim Ratcliffe's interest in the club was first mooted last summer, with the former claiming to have set the ball rolling by touting his own alleged "collusion" to rid United of the family Glazer. Lo and behold, Ratcliffe is now front-runner in the race to succeed the reviled US debt-builders at the Old Trafford helm, which will take another step forward with Friday's 'soft deadline' for bids. But unlike Knighton's glowing if improbable promises, Ratcliffe focuses his offering on what is not I am going to do. So low is the bar under the Glazers that the most important promise a prospective owner must make is not to do anything bad, rather than to do anything good.
So it was that Ratcliffe stressed above all else on Thursday that he would not saddle the club with debt if his bid was successful and there would be none of the leveraged jigger-poker takeovers that so plagued the Glazers takeover. "The pain will stop" rather than "let's have more shiny things" is the key message. On a similar note, Qatar's competitors will no doubt be together soon to emphasize that it is absolutely certain not directly linked to a reactionary government accused of multiple human rights violations. That said, their offering is more likely to gain support for the Shiny Things trend among fans.
Given that the Glazers' cash-flowing ways haven't stopped United from splashing out huge sums on players over the past decade without much reward, it makes sense for the Ineos boss to start with sensible no-nonsense promises. This is also how an ardent supporter of fracking can reach a moral high ground from which one can see the Emir of Qatar somewhere in the valley below. Just as well Rupert Murdoch and Sky's interest was seen all those years ago, eh?
THE QUOTE OF THE DAY
"I'm not going to link Kylian's statement with [Neymar]photo of him in a fast food restaurant. He has the right, on his day off, to play poker, which he is passionate about. I told him what I thought about the photo. We don't need to mess things up' – with the stakes raised after the 1-0 Big Cup defeat to Bayern Munich, and Kylian Mbappé calling out his unnamed team-mates for their pre-match preparation, the PSG coach Christophe Galthier is quickly overturned. first sign of mutiny in the dressing rooms.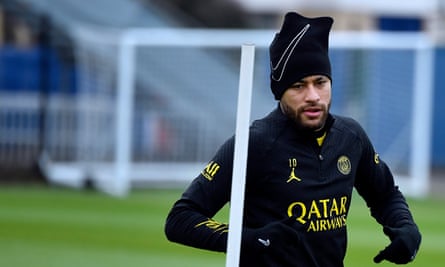 I'd like to thank Niall Ruddy (Thursday letters) for providing me with the template for my first (and hopefully last) submission to this newsletter. In 2002, I was on a KLM night flight from Milan to Amsterdam. A few seats ahead of me in economy (!), I spotted Edgar Davids. I asked for an autograph, and he kindly obliged. A few minutes before takeoff, a flight attendant walked by. "Sir, I need to brief you on the security procedures, do you speak Dutch?" Visibly annoyed, he replied: "Do you speak Dutch? I'm Edgar Davids!" – Marcello Barisonzi.
I can confirm that 9th division Fisher FC, currently playing in the SCEFL Premier Division, also have a Norwegian supporters' club. When they come to London they plan to attend a Fisher home game in Bermondsey – Steve Carroll.
Re Mike Smith's email about Chippenham Town and their Norwegian supporters group, can I be the 1,056th person to loudly ask if Hiim and Herdal are a couple?' – Harry Piano (and no others).
Will ChatGPT be Chelsea's next manager? – Krishna Murthy.
Send your letters to the.boss@theguardian.com. Today's winner of our letter o' the day giveaway is … Harry Piano.