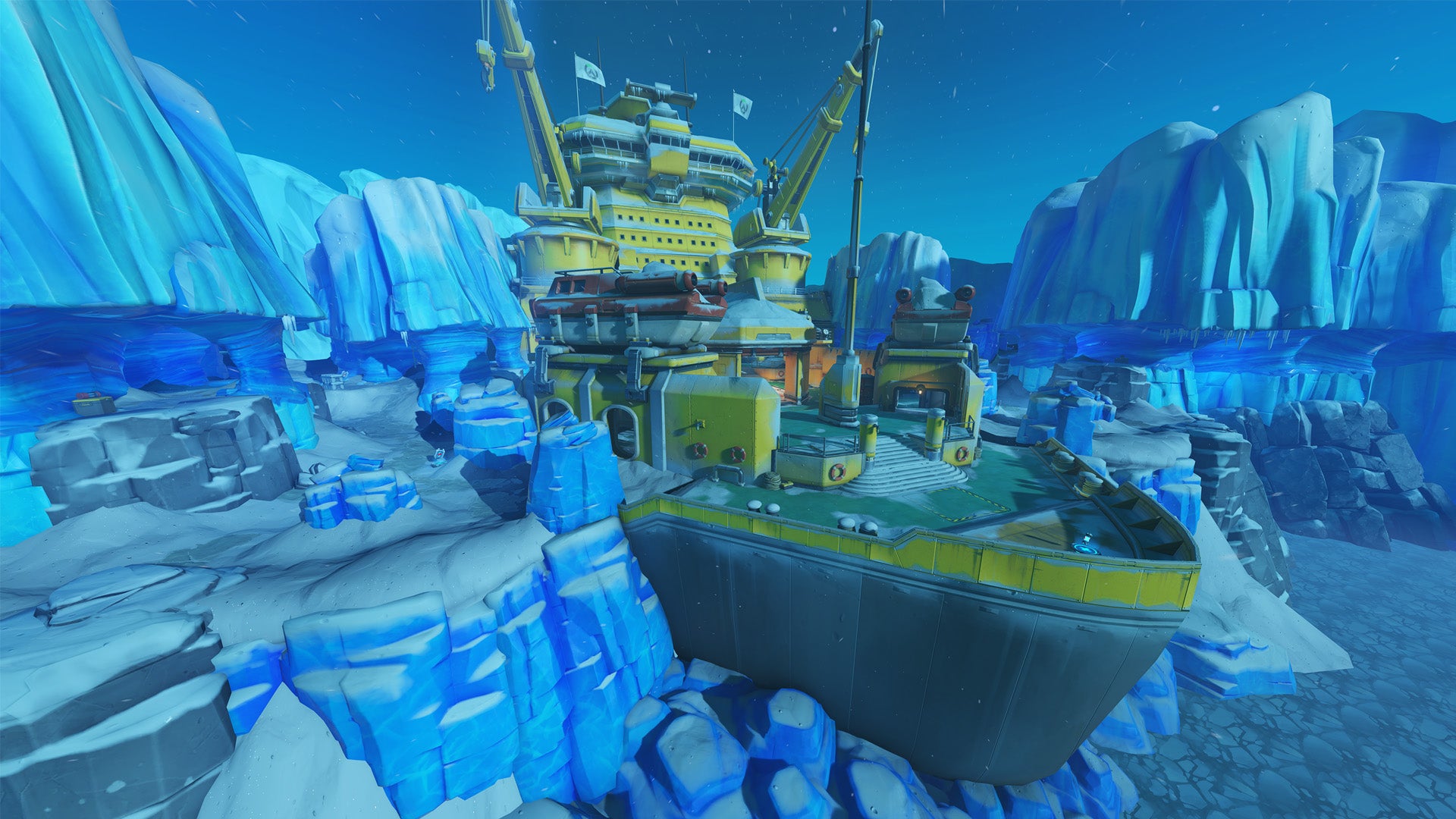 Overwatch 2 Season 3 comes out next week and Blizzard showed off a new map that will arrive when the season arrives, Antarctic Peninsula.
Early next week, February 7 to be exact, Overwatch 2 Season 3 is coming to the competitive shooter. While the full details of what to expect have yet to be released, Blizzard has given us a sneak peek at the next map, Antarctic Peninsula, which looks like you'll need to dress your favorite heroes a little warmer. This map is designed specifically for the Control game mode and consists of three points to capture: one surrounding a mini-drill, one on an icebreaker, and another in the science labs.
Designing the map was obviously more of a challenge than normal, according to level designer Trey Spisak (thanks, PC Gamer). "We're used to working on sort of modular, road-based, city-based things that have a lot of real-world reference, which is great to see. All of a sudden, we say we're going to do Antarctica and you Google 'Antarctica' and you go, oh, you know , This is a problem".
The map also reveals a bit of the game's story, particularly regarding Mei, as this is part of the setting for the character's narrative. "One of the questions I've heard from the audience and I'm always excited to answer is, 'Hey, May and her colleagues have been frozen for many years. Why didn't anyone ever come to their rescue?" said lead?narrative designer Gavin Jurgens-Fyhrie (thanks, GameSpot).
"It's kind of a sad question, but the answer is that Overwatch tried. And that's one of the things that's so exciting about this map, you get to see a huge part of the story that we've never talked about before… You can see the Overwatch ship Icebreaker that tried to come and save Mei and her team but failed. And the people there had to leave because the weather was so crazy–they had no choice and Overwatch disbanded before anyone could come back never there."
Jurgens-Fyhrie also noted that you'll get to see some hints of what Mei and her team were trying to find, as well as some kind of secret that might lead to "something even more exciting about the story going forward."
Overwatch 2 Season 3 is set to hit the game on February 7th across all platforms.
Antarctic Peninsula, a New Control map, debuts in Season 3! 🥶

Tips to help you prepare:
🧤 Dress accordingly
🐧Always say hello to the penguins
🏆Get the point and win

Tune in on February 6th for the Season 3 trailer
👀 https://t.co/7Hpk8qWd8H pic.twitter.com/rSydZvDWBH

— Overwatch (@PlayOverwatch) February 2, 2023

To view this content, please enable targeting cookies.