Paul Rudd says he has no idea if this Marvel movie will be his last.
The third in the Ant-Man series, following 2015's Ant-Man and 2018's Ant-Man And The Wasp, is the first of the films he hasn't also co-written.
"Maybe it's the end of Ant-Man," Rudd told Sky News.
"I don't really know. As for the sequel, the only thing I can say for sure is that Kang the Conqueror will be a very big part of whatever it is."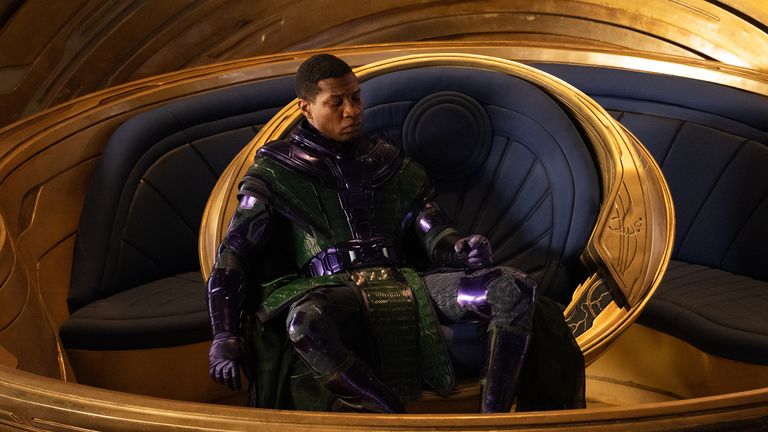 The film's director, Peyton Reed, previously referred to the film as the end of the Ant-Man trilogy.
But with 31 films in the ever-expanding Marvel Cinematic Universe (MCU) and counting, there's no reason to necessarily think that the Scott Lang era has come to an end.
Being a part of the Marvel movies isn't something Rudd has taken lightly: "They feel huge working on them because, you know, they are. And I think [Marvel] they have a way of making movies that are different from other studios… Everyone who works at Marvel has a little bit of faith in the machine. They're good at making the things they make."
A big part of that, he says, is down to the people who work on the business side of the business, including the president of Marvel Studios.
Rudd's unlikely comic past
"Kevin Feige and some of the producers, they know what they want to see because they're comic book fans, they're Marvel fans. They've grown up reading the comics. They're fanboys and fangirls. And so, they really, I think, care about product".
But despite Rudd's faith in the franchise, he wasn't always so careful.
Brought up by an English uncle (Rudd's parents were both from London), the actor admits: "I read Beano and Dandy more than I read any Marvel Comics, that's for sure."
Veteran stars return
Michael Douglas, who plays Dr. Hank Pym — the character who invented the Pym Particles, allowing Ant-Man to shrink and grow in size — is also a long-time cast member.
He says returning to the Marvel family is "like putting on an old coat."
"It's like the old cinema, when the actors made movies together all the time. It's just comfortable."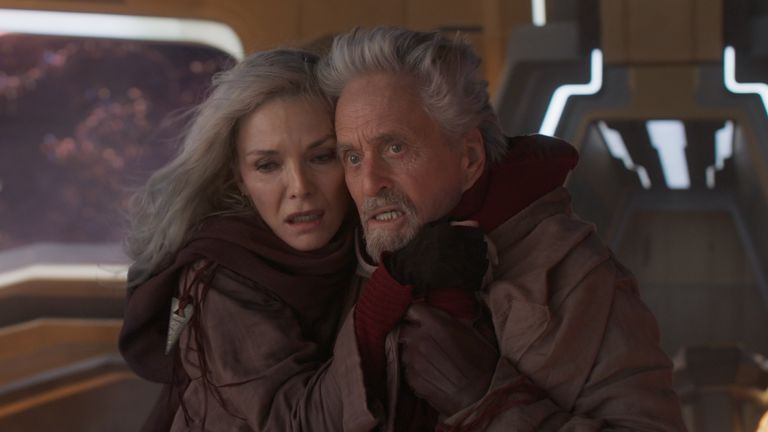 Much of his screen time is spent with fellow screen legend Michelle Pfeiffer, 64, who pays his wife Janet.
And not one to be put off by all the technology involved in modern superhero movies, the 78-year-old star says it was the technology that first drew him into the franchise.
"I've never done green screen before, and that's one of the reasons I wanted to do it, to see how it all works."
But he admits that along with Marvel's highlights come responsibilities: "Once you come on board, there's such secrecy about the whole process … You don't see a script until maybe a couple of weeks before shooting starts, and then I don't have a lot of input."
He also says it's different from other films thanks to its source material — the "very strict Bible" of Marvel comics.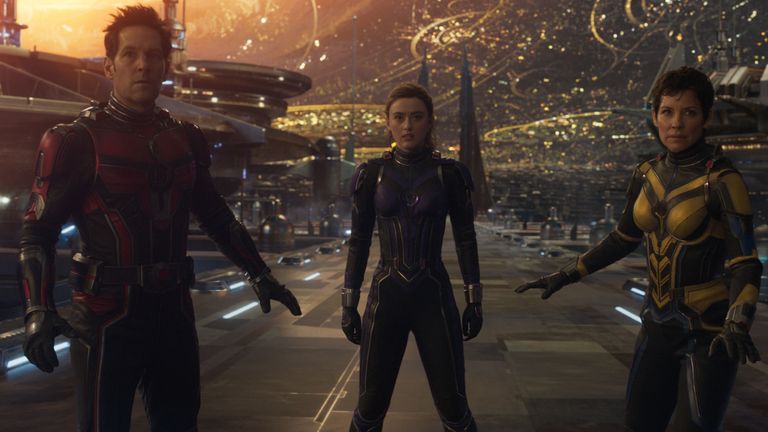 "You are actually in the Quantum Realm"
Filmed at Pinewood Studios in the UK, the production had eight scenes and 48 props. And thanks to the over-the-top action and VFX, it's a job that tends to require more technical than emotional acting from its stars.
Kathryn Newton, who plays Ant-Man's daughter Cassie Lang, told Sky News: "It's very much like standing your ground. OK, now you have to cry. And that's it. That's hard."
Evangelina Lilly, the Canadian actress behind Hope Van Dyne and describes one of the more technical stages – dubbed "The Volume" – as "overwhelming".
She explained: "Instead of a green screen stage, The Volume is a stage that has thousands of small LED screens covering the walls and ceiling and projecting onto it. Everything you actually see in the Quantum Realm.
"Well, the quantum landscape is all around you. And when they change the camera angle, it changes the landscape so you're seeing something different. It's immersive. You're actually in it. You're in the Quantum Realm."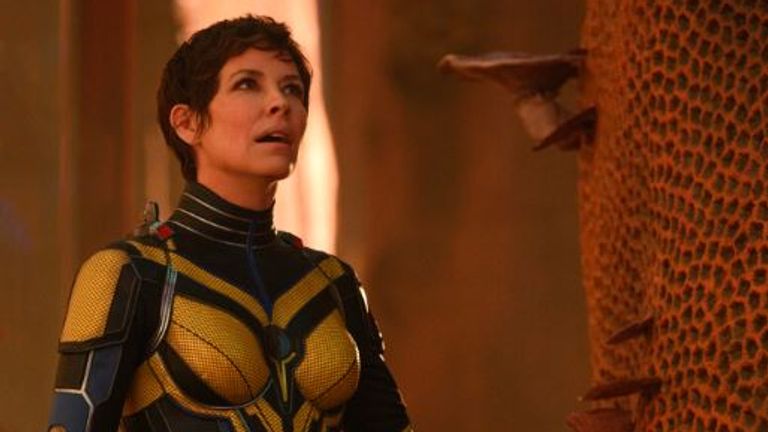 Unlike the first two Ant-Man films, which were shot in San Francisco, this film is based almost entirely on the Quantum Realm – an alternate universe hidden within the multiverse, where time follows its own rules.
A place so far unique to the Ant-Man movies, director Payton Reed says it's a location he wanted to explore: "It's not space from Guardians Of The Galaxy or Asgard from the Thor movies. It's a subatomic world. "
Partly inspired by electron microscope photography, he admits he started Quantum Theory For Dummies before his first Ant-Man film, exploring things like quantum entanglement in the latter film and Schrodinger's cat in it.
Additionally, he describes the "balancing act" of being at the helm of one of the franchise's many productions: "It has to kind of fit into that larger architecture of this big MCU story being told, but not be drowned out by it.
"The way it tends to work is that we make decisions and come up with ideas for our movie, and all the movies and things that follow have to deal with the consequences. And of course, we also inherit things."
Click to subscribe to Backstage wherever you get your podcasts
Indeed, this film kicks off Phase Five of the MCU, with two more films slated for this year alone – Guardians Of The Galaxy Part 3 in May and The Marvels in July.
And as Rudd confirms, there is one character who is guaranteed to return – time-traveling terrorist Kang. The villain, who has killed the Avengers so many times in different timelines that he literally can't keep track, is played by Lovecraft Country star Jonathan Majors.
In a universe of endless possibilities, alternate realities and super-charged powers, Kang's oppressive presence is a sure certainty in Marvel movies for years to come.
Ant-Man and The Wasp: Quantumania is in theaters now.