doChampionship clubs return to action this weekend just 11 weeks after the World Cup final. The second division kicks off on Saturday when second-favourites Toulouse travel to Cumbria to face Barrow. In the final season offering guaranteed promotion to the Super League before the IMG-led revamp of the game, a number of ambitious clubs are desperate to sneak into the top flight before the drawbridge is lifted. Others are busy upping their game off the pitch, knowing they need Second Division status to ensure they stay in the second tier after this season. There are many interesting stories throughout the league.
The naughty rookie heads the favourites
With Leigh promoted to Super League and Toulouse rebuilding, Featherstone start the season as title favourites. Based on their recruitment that alone makes sense. Echoing Leigh's successful galactic policy, they brought in prominent New Zealand prop Elijah Taylor, Toulouse 2022 player of the year Chris Hankinson, Wales star Kyle Evans and Papua New Guinea prop McKenzie Yei.
In charge of it all is former St Helena and Great Britain midfielder Sean Long, who followed his illustrious career with a string of assistant coaching appointments in both codes. Long has coached at Salford, St Helens, Harlequins, Leeds, Samoa and France. Now at 46, he finally has his hand on the maestro's baton. Fev kick off their season on Monday night at Keighley in what will be the first live game on Viaplay Sport, with the Swedish broadcaster taking over Premier Sports. It won't be boring.
The sheep farmer who runs the pink city
This will be Sylvain Houles' 17th season in Toulouse and his 12th in charge of France's second biggest club. Relegated by a long distance after one season in Super League, their record of finishing higher on the ladder than the previous season will finally end, but possibly only by one place. Those who rely on him most for their daily survival – the sheep he milks at dawn to produce Roquefort cheese on his farm before going to training – have helped him maintain his balance after a tumultuous year.
Toulouse are working hard off the pitch to secure their Grade A classification and a guaranteed place in the top flight under the new IMG system. As the only full-time club remaining in the second tier – albeit with possibly a smaller budget than Featherstone – Toulouse will have failed if they do not reach the Championship final. However, Houles must rebuild his squad, with halves Corey Norman and Tony Gigot joining Elite 1 clubs. Scotland international Callum Gahan will challenge fellow Wales World Cup star Josh Ralph and former Wigan youngster Jake Shorrocks for a place in a new midfield pairing, while veteran Sitaleki Akauola arrived from Salford to replace Daniel Alvaro. packet. You can see how they fared in their opening game at Barrow on Saturday afternoon, which is being streamed live on the RFL's OurLeague app.
Championship lifers hoping to escape
This will be Halifax's 20th consecutive season in the Championship, a division record for longevity. They have come a long way, finishing third or fourth in five of the last seven seasons. Rookie coach Simon Griggs, aided by Irish legend Liam Finn, has added Italy duo Ryan King – the second rower who made a big impact for Whitehaven last season – and World Cup hat-trick scorer Jake Meysen, the who can play on the left. center or on the wing, along with the highly rated Eribe Doro from Warrington.
The newcomers made their debuts in the Panthers' 28-16 defeat at Wakefield in mid-January. Only two of the last seven clubs relegated from Super League have returned straight away, suggesting Toulouse may struggle to push Featherstone all the way. The Panthers of Happy Valley will be waiting to blow up.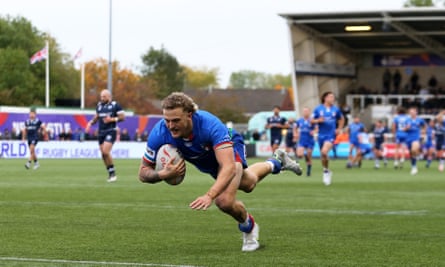 When John Keir took the Championship Bulldogs into the play-offs in 2016, writer Tony Hannan couldn't believe his luck. He was writing a book about them that year, aptly titled Underdogs. They still deserved that tag last season when Craig Lingard led them to just one Super League win. Headlining the Underdogs, their captain Keegan Hirst has come out of retirement to add his vast experience to the squad. The 35-year-old's third spell at the club comes three years since his last competitive game.
Being among the many clubs who have had to cut their budget this year, Lingard must spend his already modest wages even more wisely. Having lost star players Luke Hooley to Leeds and Tom Gilmore back to Widnes, he brought in both potential – in prop Samy Kibula, who, at 23, has already experienced life at Warrington, London Skolars, Swinton and Dewsbury – and vast experience. to Elliott Kear and Josh Woods. They might be dark horses to make the playoffs again.
The underdogs who hardly train together
A few teams have discovered that less training is the secret to success. That's what Barrow Raiders manager Paul Crarey chose to do when his mix of local produce and imports returned to the second tier last year. With big players spending five hours commuting to practice three or four times a week, Crarey cut practices down to twice a week. The players are completing their individual strength and conditioning plans at home, allowing Crarey to widen his nets in search of replacements for France sensation Hakim Miloudi and prolific winger Tee Ritson, whose long-term Super League opportunity has surprisingly come from the champions, St Helens. . Miloudi's place goes to experienced center Greg Worthington, while Salford pair Greg Burke and Jack Wells add size and elite experience to the pack. Barrow's success has also enabled them to lure a number of local youngsters back to the club having enjoyed time in Super League academies. Expect it to be in the top half again.
The world champions are now battling it out in mid-table
For Batley, Barrow, Halifax or up-and-coming York to progress to the semi-finals, former world champions Bradford and Winds would have yet another disappointing season. They are still among the biggest English clubs. Bradford (with 3,491) had the biggest Championship crowd last year and Winds had the fourth biggest (2,860) despite finishing eighth and ninth respectively.
Both clubs have adopted the same approach for 2023: recruiting as many experienced players as possible to get into the promotion mix. Widnes boss John Kear has added Kyle Amor to a squad that has played in Super League and knows what it's like to compete at the top of the Championship. For their 10th season out of Super League, Bulls boss Mark Dunning has signed veteran forwards Bodene Thompson and Michael Lawrence in a bid to stem the rot. However, Bradford signing promising 23-year-old full-back Jack Walker from Leeds could be the Championship signing of the season.
The raging against the dying of the light
Lawrence and Amor aren't the only familiar faces in new places. Luke Gayle, who five years ago was the Super League Man of Steel and England's World Cup final midfielder, has suffered a terrible string of injuries. The 34-year-old still made 20 appearances as Hull FC captain last year, so it was a surprise to see him join up with newly promoted Keighley this winter. Gayle should thrive in the Championship – as should Ben Crooks, who brings a decade of Super League experience. Buoyant Keighley have also signed the former NRL forward Mark Ioane, while 30-somethings Jesse Sene-Lefao, Matty Dawson-Jones and Aaron Murphy have joined a veritable dad army at Sheffield Eagles, where wily manager Mark Aston already has veterans Anthony Thackeray (36), Ben Jones- Bishop (34) , Kris Welham (35) and Quentin Laulu-Togaga'e (38) huddle his children around.
Follow No helmet required at Twitter and Facebook