Sir Rod Stewart told Sky News he supports pay rises for nurses and junior doctors while warning against a move towards a US-style healthcare system.
The singer paid for members of the public to be scanned at a mobile scanning unit in Essex today, which he pledged to do during a Sky News phone on the state of the NHS last month.
Speaking to Sky News presenter Sarah-Jane Mee today, she said: "There needs to be enough money in the coffers to pay these nurses.
'Daunted and angry' doctors call three-day strike – follow live
"Only two years ago we were applauding and now listen – they worked so hard."
He added that the counter-offers made by junior doctors in their negotiations, who announced a new wave of strikes today, were "reasonable".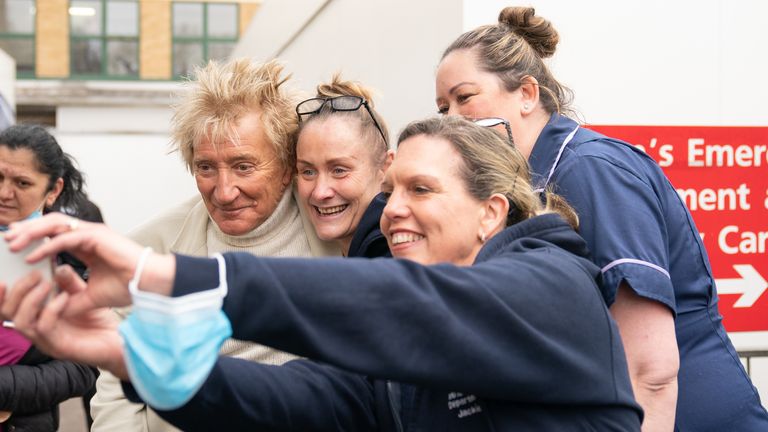 The government is currently in talks with nursing unions about pay and conditions.
Sir Rod warned: "If we don't have the NHS, it will be like the United States.
"When you go to an emergency, they say, 'right, pass your documents,' and it's unbelievable in America.
"It doesn't work there either, but I think it works better than this [it] it's here right now – we've got to pull it together."
Speaking about his commitment to fund scans for members of the public, Sir Rod said: "If this is a huge success, and I think it will be, I'd like to do it in Belfast, Dublin, Edinburgh, Glasgow, in Manchester. and just keep going.
"I hope some other people follow me because I want to prove that I'm not all mouth and no pants – and that's why I'm here to prove that I have."
Sir Rod Stewart calls Sky News

Read more: Sir Rod Stewart 'reflected the mood of the country' when he called for a Labor government, says Sir Keir Starmer
When he called Sky News last month, he explained that he had gone to a private clinic on Harley Street in London for his own scan, but had arrived late – only to be told the clinic wasn't busy anyway.
"I thought, this is a terrible injustice – so here we are."
Sir Rod also spoke of his support for sending jets to Ukraine, saying: "If I'm going to get political, I think we should send the Ukrainians our F-16s – that's up to you, Prime Minister.
"I've been supporting them for years – I have a flag and wear a blue and yellow suit for a song and dedicate it to them.
"And we feel that very strongly because if the Ukrainians lose, it's the end of civilization as we know it. You know, it's all over the F-16s."