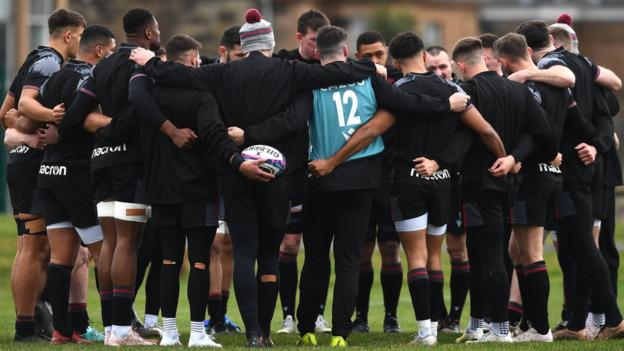 A decision on whether to go ahead with Wales' Six Nations match against England will come down to the February 22 deadline set by the Welsh players.
Saturday's game is in doubt with Wales players threatening not to play due to a dispute with Welsh rugby bosses over contracts.
Wales manager Warren Gatland had said he hoped the matter would be resolved on Tuesday despite delaying in naming his team.
No resolution has yet been implemented.
That takes things to the deadline Wales players have set for Wednesday to resolve the issues.
Gatland revealed that a training session on Tuesday afternoon had been canceled so the players could continue negotiations and said the threat from the national team not to play against England was real.
There will now be meetings on Wednesday between the players and the Professional Rugby Board (PRB), which runs the professional game in Wales and is made up of representatives from the Welsh Rugby Union (WRU) and four regions – Cardiff, Dragons, Ospreys and Scarlets.
The PRB is due to meet in the morning before addressing Wales' professional players in the afternoon.
The players want three issues resolved before they agree to take the pitch at the Principality Stadium for a match worth almost £10m to Welsh rugby.
Looking for:
Representing the Welsh Rugby Players' Association (WRPA) at PRB meetings

The removal of the 60-cap selection rule in Wales, whereby a player who plies his trade outside the country cannot be selected unless he has made at least that number of Test appearances

The removal of the Welsh rugby captains' requirement that players receive 80% in set wages, with 20% available in bonuses
PRB chairman Malcolm Wall said the 60-cap rule is under review and they are believed to be considering reducing the requirement to between 25 and 40 caps.
However, Wall said his organization intended to move forward with fixed/variable contracts meaning players are only guaranteed 80% of salaries.
Wall also said that the PRB will invite the WRPA to be represented at the meetings and that an official position on the board should be formalized.
Gatland, who said he was unaware of the seriousness of the issue when he decided to return to Wales following the departure of his predecessor Wayne Pivac in December 2022, says his players will be in the right frame of mind to play if the match goes ahead.
"I don't think there will be any lack of motivation for a player playing against England," he said.
"If things are resolved, they will be fully focused on the game."