Burnley defender Ian Maachen has been named Sky Bet Championship Player of the Month for January.
Much improved in defense under Vincent Kompany, the left-back uses his pace to hit forward at every opportunity to break into Burnley's attack, as he did with a spectacular double at Swansea – a free-kick and a 25-yard thunderbolt.
Sky Sports EFL pundit Don Goodman said: "As always, there was a lot of thought going into this month's award, but it's always hard to ignore a defender when he's been equally effective at both ends of the pitch.
"Ian Maachen has been a key component of Burnley's success and his two goals against Swansea will go down as one of the highlights of an outstanding season for his side."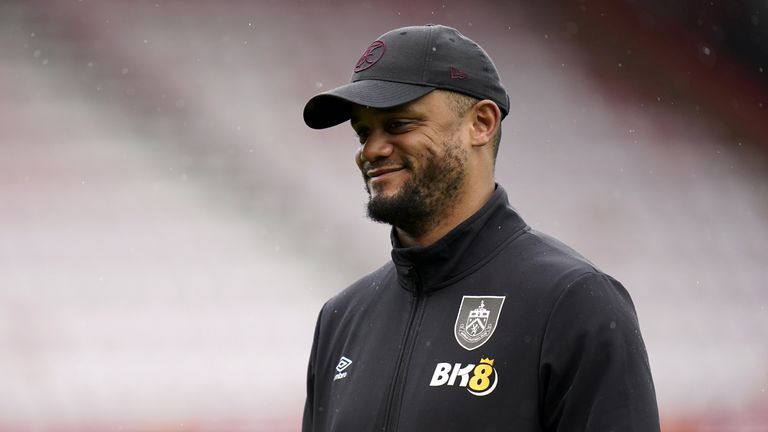 Burnley director Vincent The company named Sky Bet Championship Manager of the Month for January.
Kompany is the manager who keeps on giving, leading his side to nine points from another perfect month. So often dominating games, Burnley showed their fighting qualities to come from behind to beat a resurgent West Brom.
Goodman said: "It's been another perfect month for the Clarets and Vincent Kompany's impact is becoming more and more evident.
"His Burnley side so often dominate games but he also showed some real grit when coming from behind against West Brom to secure an important three points."
Sky Bet League One
Player: Luke Leahy, Shrewsbury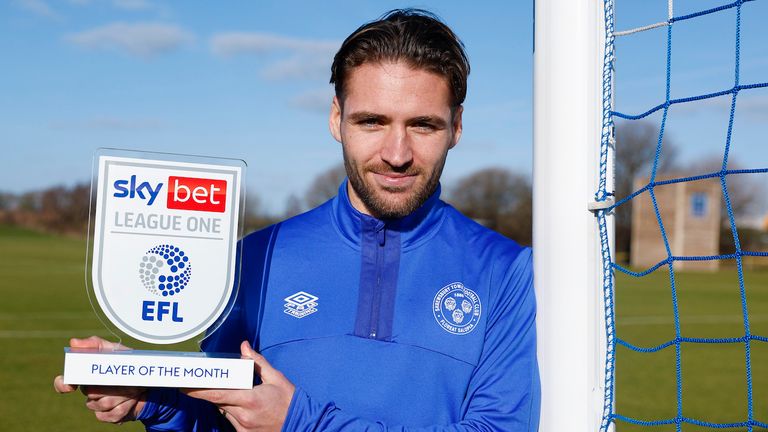 Shrewsbury Town midfielder Luke Leahy has been named Sky Bet League One Player of the Month for January.
Three goals and two assists in five games for the former defender, who has turned into an energetic box-to-box midfielder, so adept at clearing balls into the Shrewsbury box, providing a creative spark at the other end.
Shrewsbury manager Steve Cotterill said: "I'm delighted for him! I'm really pleased and he deserves a lot to be honest.
"They could have been enough [Shrewsbury players] last month he could have gone in with a shout. While we had good team performances, we had some outstanding individual performances.
"While there are so many players and so many teams, we're delighted that Luke won it. I'm really, really pleased for him. It's a nice accolade for him."
Coach: Paul Warne, Derby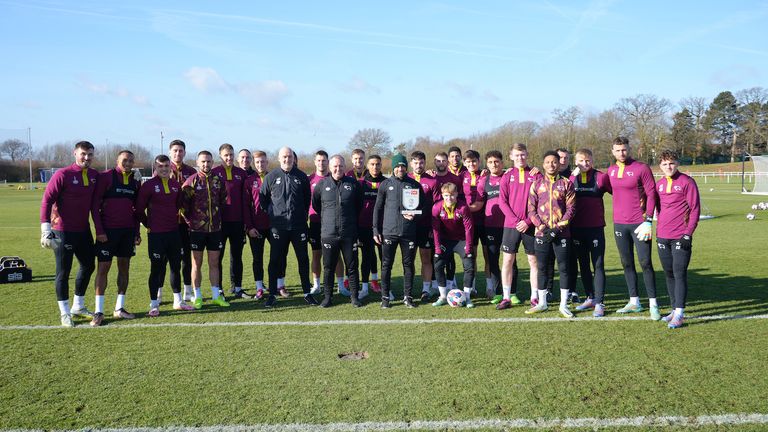 Derby County manager Paul Warne has been named Sky Bet League One Manager of the Month for January.
Steady progress in Warne's first three months in charge at Pride Park gave way to perfection in January with four game wins and an 11-4 goal difference. Most impressively, the month was sealed with a late comeback win at Port Vale.
Warne said: "I am proud to receive this award on behalf of Derby County and while I recognize that it is shared with one individual, this is an achievement and recognition for everyone associated with the club.
"It's the players who have delivered results in an incredibly difficult division, our coaches run great training sessions and our backroom staff play a huge support role behind the scenes. Everyone has their own job to do in the overall team, and it's crucial for what we are trying to achieve.
"The way the players work day in, day out and perform on the pitch is something we are all very proud of and know there is a lot more hard work ahead in the coming months.
"Everyone contributes and our supporters, who support us in incredible numbers both home and away, should also be recognized for the role they have played since we arrived at the club."
Sky Bet League Two
Player: Conor McAleny, Salford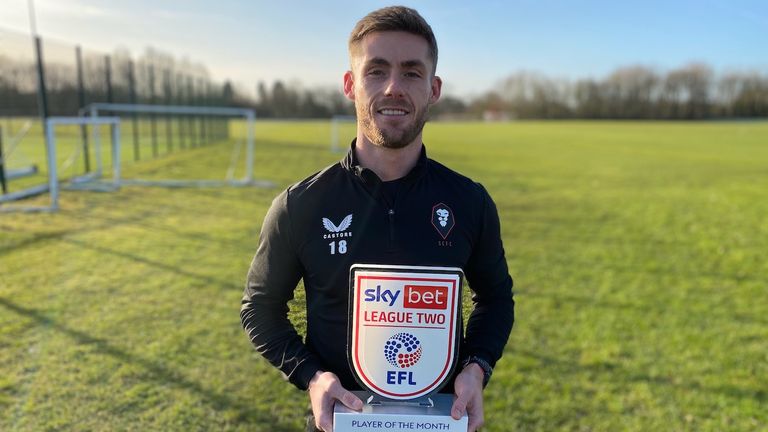 Salford City striker Conor McAleny has been named Sky Bet League Two Player of the Month for January.
After just three goals in an 18-month injury lay-off, the 30-year-old hit six of Salford's first seven goals in January. His brace against Bradford and Sutton included a sweet volley, a vicious free-kick and a clever move to create space for a shot.
Salford manager Neil Wood said: "It's great to see Conor rewarded for his efforts in January, six goals in as many games is a great return.
"We know the quality that Conor has and after a few injuries in the first half of the season, we're delighted to see him back in such good form.
"Of course, on a personal level it's a fantastic achievement and it's something the team can be proud of as well because everyone has worked hard and played for each other.
"The results we've got and the positions we've taken are testament to that, and our challenge now is to maintain that as much as possible for the rest of the season."
Director: Matt Bloomfield, Colchester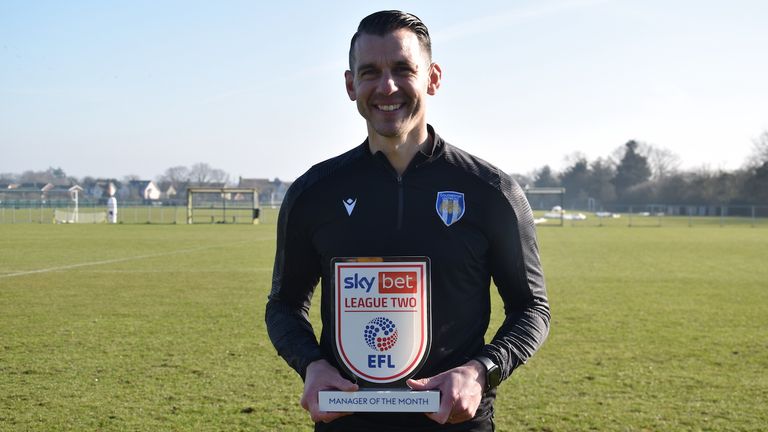 Colchester United manager Matt Bloomfield has been named Sky Bet League Two Manager of the Month for January.
If the transformation under Bloomfield was steady until the turn of the year, it has been spectacular since then. Colchester have collected 13 points from six games, with three crucial away wins over relegation rivals Harrogate, Rochdale and Hartlepool.
Bloomfield said: "I'm very happy to have been nominated. And then to get the call to say it was mine was really, really gratifying, but it's not just me – that's completely wrong of me to say that.
"It's the club as a whole, it should be club of the month because without the staff around me, the players to buy in, the fans to be around, the support staff to drive the club the way they do, both on the training ground and on the pitch, it's a whole club effort.
"Every successful football club is just that – a club. And it's only right that I say thank you for the way they've received me over the last four months and responded to what we're trying to do."