SNP leadership hopeful Kate Forbes said she felt a "huge burden" that some of her views had caused harm.
The Scottish Chancellor of the Exchequer plans to continue the race to succeed Nicola Sturgeon as first minister following backlash over comments made during media appearances.
In older interview on Sky NewsMs Forbes said having children out of wedlock would be a "wrong" for her personally according to her faith and something she would "try to avoid".
He also earlier admitted he would have voted against same-sex marriage in Scotland when it was legalized nearly a decade ago.
Ms Forbes shared some of her views during an interview with Sky News

"I will abide by the laws that were difficult"
Ms Forbes, who is a member of the Free Church of Scotland, stepped down on Wednesday to regroup after the row and has now pledged to stand up for the rights of all Scots.
In a statement issued on social media, the MSP for Skye, Lochaber and Badenoch said: "I feel very aggrieved that some of my responses to questions in the media have caused harm, which was never my intention as I tried to answer questions clearly.
"I will defend everyone's rights to the end Scotlandespecially minorities, to live and love without fear or harassment in a pluralistic and tolerant society.
"I will uphold hard-won laws, as a servant of democracy, and seek to strengthen the rights of all to live in a way that allows them to flourish.
"I firmly believe in the inherent dignity of every human being; this underpins all the moral and political decisions I make."
Read more:
The controversies that put pressure on Sturgeon
Sturgeon's time as First Minister in 10 charts
Kate Forbes says campaign 'not over'
Ms Forbes said her constituents had elected her in "full knowledge" of her religious views and were "comfortable" knowing she would "serve them faithfully and without prejudice".
He added: "It is possible to be a person of faith and to stand up for the rights of others to have no faith or a different faith."
Ms Forbes went on to outline key details of the policy, which she promised would see SNP party members "more engaged in policy-making than ever before".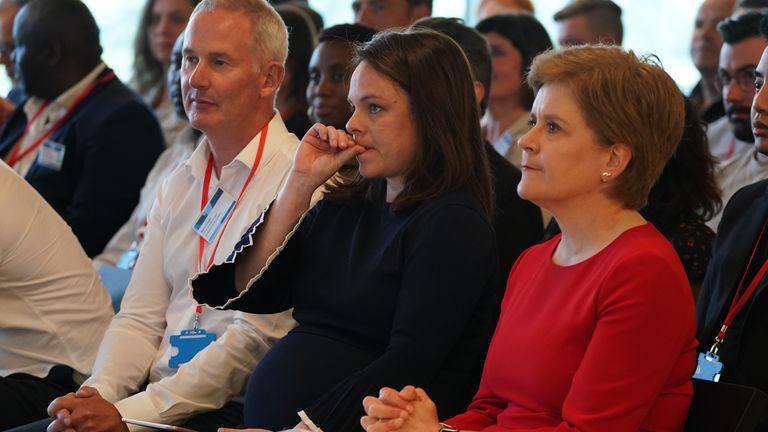 "Change to make a difference is what I offer"
Ms Forbes said independence would be achieved through the combination of good governance at Holyrood and party members doing their job in developing policies that would "convince our nation that its future lies in being sovereign".
He added: "This election is a moment in Scotland's history when our members have to make an important decision.
"Change but no change will meet the needs of this age. Change to make a difference is what I offer."
The search is currently underway to find a new leader for Scotland's biggest party following Ms Sturgeon's surprise resignation announcement last week.
First Minister Nicola Sturgeon announced her resignation last week

Mrs. Forbes in progress against health secretary Humza Yousaf and former community security minister Ash Regan.
The leader of the Scottish Conservatives, Douglas Ross, targeted Mr. Yousaf at Holyrood on Thursday – mocking his standing ovation at an event and accusing the front-runner to succeed Nicola Sturgeon of failing as health secretary.
Candidates have until Friday to secure 100 nominations from at least 20 local party branches to secure their place on the ballot.
The SNP said it would announce its new leader on March 27.