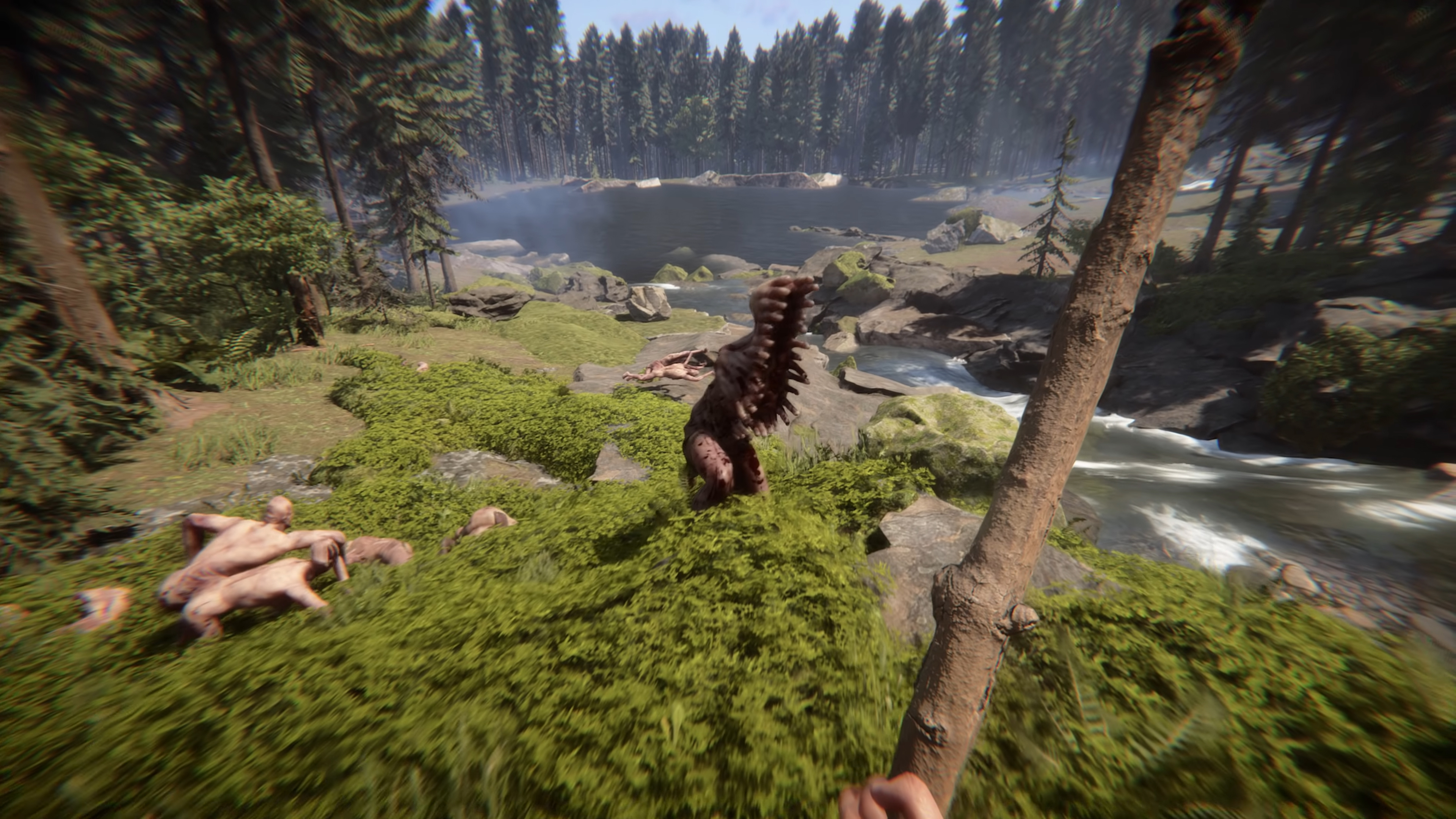 Survival game Sons of the Forest (opens in new tab) launches in early access on February 23rd, and as you explore, craft, craft and battle against a terrifying cannibalistic tribe on a mysterious island, take some small comfort in the fact that you won't have to do it alone.
Even if you're tackling Sons of the Forest in single player, you'll be accompanied by an AI-controlled companion, Kelvin, who can perform tasks such as chopping wood, collecting rocks and sticks, and catching fish. But you can also play Sons of the Forest in co-op with up to eight players (and yes, Kelvin will still be along for the multiplayer ride). IGN (opens in new tab) has a new trailer showing a slice of co-op gameplay, including exploration, building, combat, and of course the inevitable tree chopping.
While the trailer is short, there are plenty of fun little details to absorb, including more eyes of the faithful Kelvin. Since he was injured in the crash and can no longer hear or speak, he must be instructed by a player who selects words in a notebook and holds them up to read them. We can see this happening 25 seconds (opens in new tab) into the trailer, followed by Kelvin who tilts his head and leans forward a bit to read them.
Moments later we see Kelvin pick up a tree branch from the ground and stick it under his arm, then carry a log to the player base. It even helpfully shows a charging cannibal as the fight portion of the trailer begins. Thanks, Kelvin! I'm pretty sure I saw the half-naked lunatic hit me from the woods, but I appreciate the assist.
Building in Sons of the Forest, whether you're doing it alone or with friends, looks great and much more free-form than in the original game, The Forest, where you'd place an imaginary 3D design on the ground and then fill it. with resources such as logs and branches. Here we see individual logs stacked to create walls and split in half to install flooring. Some extension of the base is also shown, as a support log standing at a 45 degree angle is raised horizontally and supported by another log, which appears to become a new roof. Pretty neat!
And having other players with you will come in handy when the locals start invading your base. Like Kelvin, the enemies are very interesting to watch: at 55 seconds (opens in new tab) you can (very soon) see a dive, land on his stomach, and then slide on the wet grass like he's surfing the match. Some are hit with some sort of stun baton and fall with their limbs frozen and their arms twitching, taser-style. One crawls away in fear, a few charge on all fours like wolves, and then there's a strange, 10-foot-long, fleshy nightmare that attacks from end to end like… I don't know what to compare it to, but it's unsettling.
It also seems that enemies can take multiple arrows to the body and keep going, but a single hit will kill them. If you're not accurate with a bow and arrow, you might want to bring along some friends who are. And you better round them up quickly: Sons of the Forest (opens in new tab) launches on Steam Early Access this Thursday.