IIn what has been billed as the biggest day of industrial action in a decade, workers from teachers to train drivers, civil servants to university staff went on strike on Wednesday. Guardian reporters spoke to groups of workers at pickets and demonstrations in Bristol, Birmingham and London.
Bristol: "We have to show that we are serious"
Thousands of striking workers including civil servants, university lecturers, teachers and train drivers marched in Bristol demanding better pay and working conditions. Led by drummers and accompanied by many children whose schools had been closed, a large, boisterous crowd gathered on College Green before proceeding through the city centre, generally receiving a warm welcome from passers-by.
Jon Voake, drama teacher at Downend School in south Gloucestershire, said: "It's partly the pay, which has fallen by 11% in the last 10 years. But it's also about how our workload increases. We all work with larger teams. Children's education will suffer and that's enough."
Voake was there with his department mascot, a dragon named Fred that he made for a school production but now went out on strikes. "He gets out more than we'd like," Voake said. "This is my fifth time out in 20 years."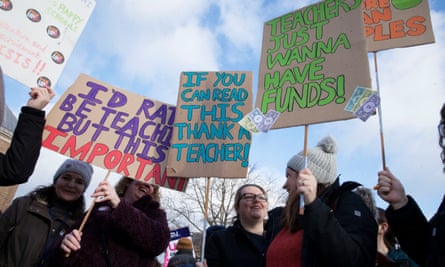 A first-year teacher said he was already wondering if the profession was for him. "There is such a contrast between last year when I was training and we were given huge support in planning lessons, in thinking about how to teach students better, to this year when I'm working weekends and holidays, staying late and still not teaching to the standards that I would like to because of the workload. It's just too much. I really wonder if I can keep it up."
Liz Franco, a civil servant and member of the Public and Commercial Services Union, said: "We've fallen way behind on our wages. I have argued about the strike, but we have to show that we are serious about it and something has to be done." He said workers from the Department for Environment, Food and Rural Affairs, the Department for Work and Pensions and the Driver and Vehicle Licensing Agency attended the rally and march. "There are a variety of jobs and people of all ages. Emotions are strong."
Gerard Cooke and Kim Hicks, two actors, held an Equity banner in the streets. Cook said: We are here in solidarity with the unions who are striking today. The cost of living crisis has hit everyone." Hicks added: "The only way any message gets through is if we keep being seen."
Jonas Rademacker, professor of physics at the University of Bristol, said he would rather teach than march. "But we are very fed up with an ever-increasing workload. Most of us spend our weekends catching up on work and at the same time our employers continue to cut our pay in real time and there is a massive assault on our pensions. We'd all rather be teaching. We love our students, it's not a good choice for us."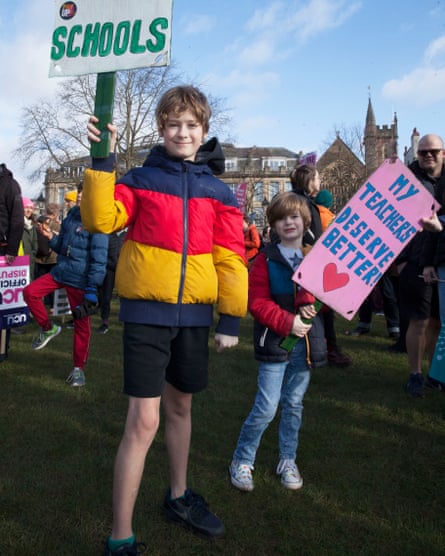 David Cussans, a researcher at the university's school of physics, said: "So many people seem to be close to burning out. It's not the money itself, it's the feeling of being vulnerable, of reducing."
A notable feature of the Bristol demonstration was the number of children supporting teachers – often their mums or dads. Josie Burden, a teacher at Bowsland Green Primary School in south Gloucestershire, was there with her children Jago, 10, and Casper, five. "It's sad that kids are realizing the impact of the cuts," he said. "They know they can't just have a glue stick when they want it. Their resources are limited. These two wanted to come, they love the school, they love their teachers and they wanted to support them."
Seb, a high-speed train driver, said he was moved by people from so many jobs and professions coming together. "Our disagreements may be separate, but we have one goal. We need a wage increase to match the rising cost of living. I think the public is still behind us. Everyone, even if they are not on strike themselves, knows someone who is. Everyone feels the sting. Everyone stands united."
Birmingham: "It's scary but it's been positive"
In Birmingham, from 8am pick-up queues were across the city, with groups of strikers in haute couture jackets waving flags and placards receiving the occasional thumbs up or honking of a car horn for support from passersby.
"It's always nerve-wracking to put your fight in front of the world, which we do, but it's just been positive," said Justin Price, a spokesman for the PCS union outside the Gambling Commission office in Victoria Square where civil servants were. surprising. "I think everyone understands the cost of living crisis and can share that there is a fair wage increase based on inflation."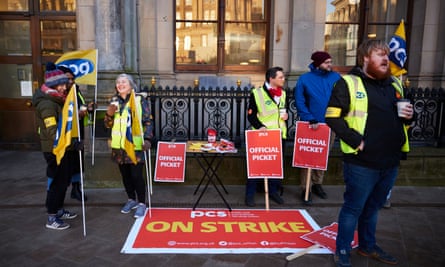 He said many strikers found the strength to be part of a national strike day across many sectors and unions, and that it helped harden the decision to secure a pay rise. "It is the camaraderie and solidarity of unions and collective action. Being seen as a show of solidarity, it's exciting. With the RMT and Aslef being the standard bearers at the start of last year, it has inspired people to say yes, we deserve an increase, we deserve not to go to food banks and struggle, we can do what they are doing."
Around the corner, outside a hub of West Midlands government offices, another union representative said morale in the civil service was particularly low. "For many years now, civil servants have faced reduced living standards, less job security and poorer pensions. Despite the fact that inflation is clearly high at the moment, we only got an average wage increase of 3%, so that's a 7-8% reduction in real terms," he said. "I gave my life to public administration, I'm a public servant to the core, but it's not right and it's not fair."
He said he hoped this year's strikes would act as a turning point. "History will tell, but maybe one day, looking back, 2023 will be seen as the year where people decided we could have a better country and we could have a better life."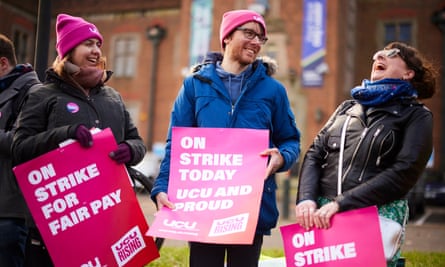 Across town, at the University of Birmingham, university staff queued at the campus gates on the first of 10 days of strike action planned by the UCU branch for February. Staff are calling on universities to improve their pay offer by 4-5% and, as part of a long-running dispute, reverse pension cuts.
Anke Buttner, secretary of the university's UCU branch, said union staff were disappointed that their demands were being called "woke". "When trying to raise basic issues is referred to as woke, I think we're missing a lack of basic empathy," he said. "But with today's strikes, it's extremely encouraging to see that you're not the only one shouting into the void. We are many".
Harjinder Kaur-Aujla, president of the UCU branch, said: "I feel like the whole population has been burnt out. It's like the government is saying there is no problem. But then how can all these unions say there is a problem?"
London: "Strike for the future of education"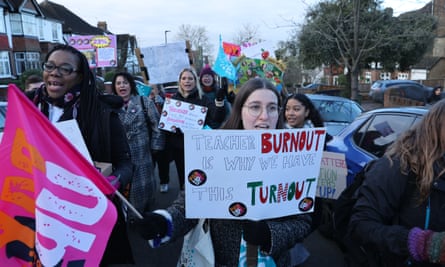 Outside Bishop Thomas Grant School in Streatham, south London, dozens of teachers took part in a series of pickets protesting what they say are untenable conditions in the education sector for staff and pupils. Amid chants of "teachers say fair pay", Diane Wilkinson, a language teacher and NEU school spokeswoman, said she and her colleagues were striking as a last resort.
"The government has not listened to us and, like much of the public sector, we have experienced a real-terms wage decline over the past 10 years, exacerbated by the cost of living crisis," he said. "A negative effect of this is that we don't have enough teachers coming into the profession. So we are fighting for the future of education."
Wilkinson has seen first-hand the effects of a lack of government funding for the sector, particularly in terms of recruitment. "It's very difficult to find teachers for different subjects, and here we have people teaching exam subjects who are not qualified to teach," he said. "It's only going to get worse."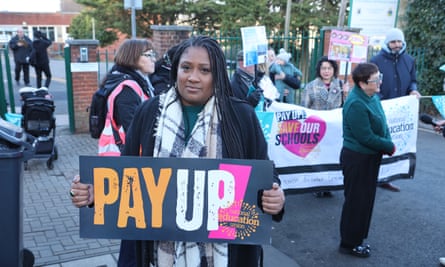 English teacher Lucy MacDonald said the lack of investment in education can be seen on a daily basis. "For English, we have to rely on very old books that have been used over the years, which fall apart and have to be taped together. We just don't have the money to replace them."
Bell Ribeiro-Addy, MP for Streatham, showed her support for the strikers. "They're not just impressive because [some teachers] they live in working poverty, they are impressive because they want better services for the children they teach. But they cannot do that right now under the current circumstances," he said. "Under the Tories, public sector wages have stagnated and living conditions have worsened. We need to invest more in our teachers."