Stuart Broad tied himself and James Anderson for the Test completion partnership record in Test history as he destroyed New Zealand during a stunning spell to put England on course for victory in the pink-ball match at Mount Maunganui.
Broad (4-21 from 10 overs) beat Devon Conway (2), Kane Williamson (0), Tom Latham (15) and Tom Blundell (1) under lights on the third night as the Black Caps slumped to 28 -5 chasing New Zealand's record 394 to win after England were all out for a swashbuckling 374 in 73.5 overs.
Broad's dismissal of Conway, who went through the gate trying to make a rich drive, took him and Anderson to 1,002 wickets in the 133 Tests they have played together, more than the 1,001 managed by Glenn McGrath and Shane Warne for Australia in 104 games.
Broad's subsequent dismissals of Williamson and Latham were excellent – the 36-year-old produced a delicious delivery behind the wicket to bowl the right-handed Williamson and then did the same to bowl the left-handed Latham shortly after his fall Latham from Zach. Crowley slipped during one of his trademark game-changing spells.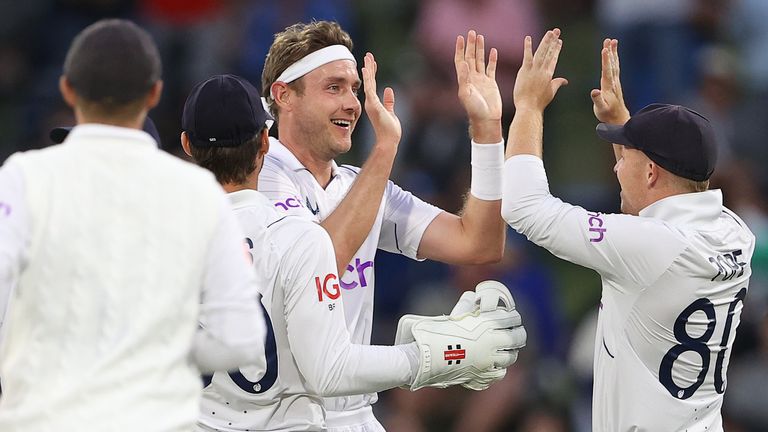 The seamer then smashed debutant Blundell's stumps after Ollie Robinson had bowled Henry Nicholls (6).
A shell-shocked home side ended on 63-5 – Michael Bracewell (25no) and Darryl Mitchell (13no) stretching the game into at least a fourth day – but England are closing in on a 10th win in 11 Tests since Ben Stokes former Black Caps head coach Brendon McCullum also became captain, as well as New Zealand for the first time since 2008, the tour in which Anderson and Broad were first paired.
The 'Nighthawk' was brought down but England quickly scored again
Broad started the day with bat in hand, having emerged as England's nighthawk on the second night when Crawley fell behind home debutant Blair Tickner (3-55).
Broad should have gone on Friday night when he skied the second ball he faced into a kamikaze straight into the air, only for bowler Scott Kuggeleijn and wicketkeeper Blundell to abandon each other as England closed for 79- 2 from 16 overs. .
Broad (7 off 17) added just one run to his overnight total before slicing Neil Wagner's ferocious bouncer at gully, but England's established batsmen scored freely as the tourists grabbed 158 from 25.1 overs in the opening session – one that ended a few minutes earlier when Joe Root (57 off 62) fell to the reverse scoop for the second time in the game, making him perhaps the first Test batter to do so.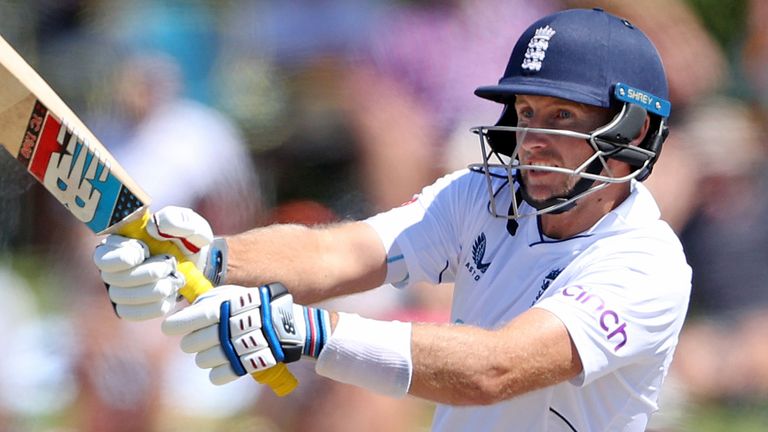 Wagner's short ball was Broad but he was hammered by Ollie Pope (49 off 46), with the Surrey man hitting two sixes over leg and a four before dropping the left-armer to leg to end a stand of 62 from 46 deliveries with Root.
Root and Harry Brook's partnership was worth 81 off 65 balls, with Brook (54 off 41) the dominant partner as he registered a sixth fifty-plus score in eight Test knocks, confirming his first 89.
Brook, like Pope, got into Wagner's bumper barrage, nailed two fours and a six in a 16-tron 30th over and four consecutive boundaries – a sequence that ended with a six – in a 34-tron 18-tron as his figures Wagner were posting an eye-watering 2-104 from 11 overs at one stage.
Brook and Root fell just short of fifty, with Brook closing Tickner behind Blundell and Root then in funky style as he dismissed Michael Bracewell (3-68) to Daryl Mitchell, leaving England 237- 5. in lead tea 256.
Stokes becomes the highest 6 hitter in test cricket
Stokes, who came in behind Ben Foakes (51) and up to No 8 after Broad's second delivery of the night, became the top six-hitter in Tests at mid-innings, surpassing McCullum's 107 when he smoked Kuggeleijn. thin leg.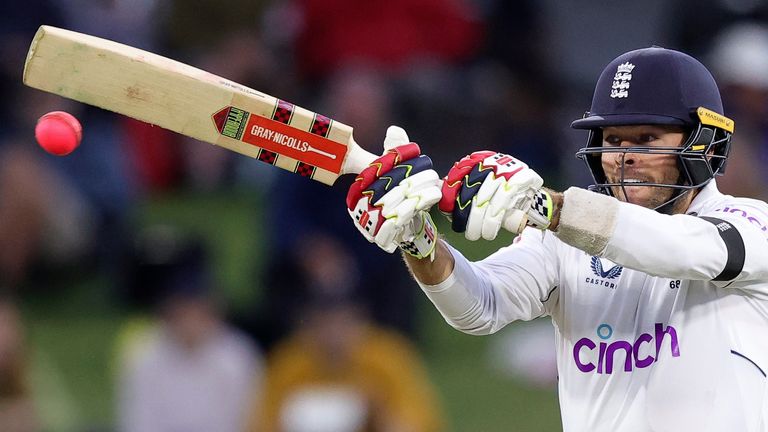 Stokes moved on to 109 sixes from the very next ball as Wagner tripped over the rope trying to catch, but the batsman could not swell that total further, he was stumped for 31 off 33 balls after being cheated in flight by Bracewell . His stand with Foakes was cut on 56 off 65 deliveries.
Fuchs became the second half-centurion of the participants, and his most patient, bringing up his fifty from 81 deliveries a ball before dropping a good seed from Tickner behind.
Robinson shrugged off a left-knee strain while racing to contribute 39 from 48 balls, often turning over as he added 42 with Fawkes and headed a partnership of 23 with Jack Leach before being bounced by Kuggeleijn.
Leach (12) was in for the last over – run out by Bracewell – but not before hitting a superb four off Kuggeleijn.
It was a knock the 'nighthawk' would have been proud of, but it was Broad's bowling that soon took center stage as he produced another of his box office spells after an Ashes 8-15 at Trent Bridge in 2015, 6 -17 against South. Africa in Johannesburg in 2016 and countless others.
Broad: Perfect pitch for my bowling
Stuart Broad, speaking on BT Sport:
"My game plan was to try to hit the pitch as hard as I could with the swing seam. It was almost the perfect dryness of the pitch for my bowling. I didn't have to chase too full. I could really put it hard on the pitch space, but still bring the stumps into play – and it's always nice to bowl some quality batters.
"Baz's [Brendon McCullum's] The mantra as a team is just to entertain the people who come to watch us and I think if you've paid your ticket and watched what we did today, it was very enjoyable."
Cook, Woakes hail 'relentless' and 'unplayed' Broad
Former England captain Sir Alastair Cook speaking to BT Sport:
"Broad always has a way of affecting the game. His first over wasn't the best but, as we've seen in his illustrious career, he just stepped into that role. He was relentless, unplayable. That's the Stuart Broad we've come to know and we must really admire.'
England seamer Chris Woakes, speaking to BT Sport:
"It's relentless. The ability to be able to challenge the batter's defense over and over and over again is an incredible skill. When Broady's in that mood and his legs are up, he's got the ability to get through those spells. He builds a atmosphere and you feel like you're constantly on top."