The Ukrainian government wants to ban Atomic Heart from digital stores in Ukraine.
Alex Bornyakov, Ukraine's deputy minister of digital transformation, plans to send an official letter to Sony, Microsoft and Valve to request a ban.
The news follows the controversies surrounding Mundfish and its game, previously detailed by Eurogamer , of which more have emerged now that the game has been released.
In a statement to tech site Dev.ua, obtained in English by PCGamesN, Bornyakov said: "Regarding the situation with the release of the game Atomic Heart, which has Russian roots and romanticizes communist ideology and the Soviet Union, the Ministry of Digital Transformation of Ukraine will send an official letter to Sony, Microsoft and Valve requesting to ban the sale of digital versions of this game in Ukraine.
"We also urge the restriction of the distribution of this game in other countries due to its toxicity, possible collection of user data and possible use of money collected from game purchases to wage war against Ukraine.
"According to media reports, the development of the game was financed by Russian enterprises," continues Bornyakov. "Therefore, we call on all users around the world to avoid this game. We also want to emphasize that the game developers have not publicly condemned the Putin regime and the bloody war that Russia has waged against Ukraine."
Eurogamer has contacted Mundfish, Sony, Microsoft and Valve for comment. So far only Sony has responded, declining to comment.
Among many controversies, Mundfish has been criticized for concealing its Russian origins, the game's overtly pro-Soviet themes, and choosing to release its release date on the anniversary of Putin's declaration of war. It has also been accused of collecting data for Russian authorities, which the developer has denied.
Since the game's release, players have now further criticized Mundfish – for featuring an outdated Soviet cartoon depicting racist imagery.
The game's save rooms contain a TV where players can watch old episodes of the beloved Soviet children's cartoon Nu, Pogodi! (Well, Just You Wait!). The cartoon has been compared to Tom and Jerry, but one episode includes a racist depiction of an African tribe.
While this has likely been used to build the world of the game's 1950s Soviet vision, there is no content warning in the game and its inclusion is a clumsy addition.
In a separate controversy, the game's sexualised bots have been likened to Yulia Tymoshenko, leader of the Ukrainian political party 'Batkivshchyna'.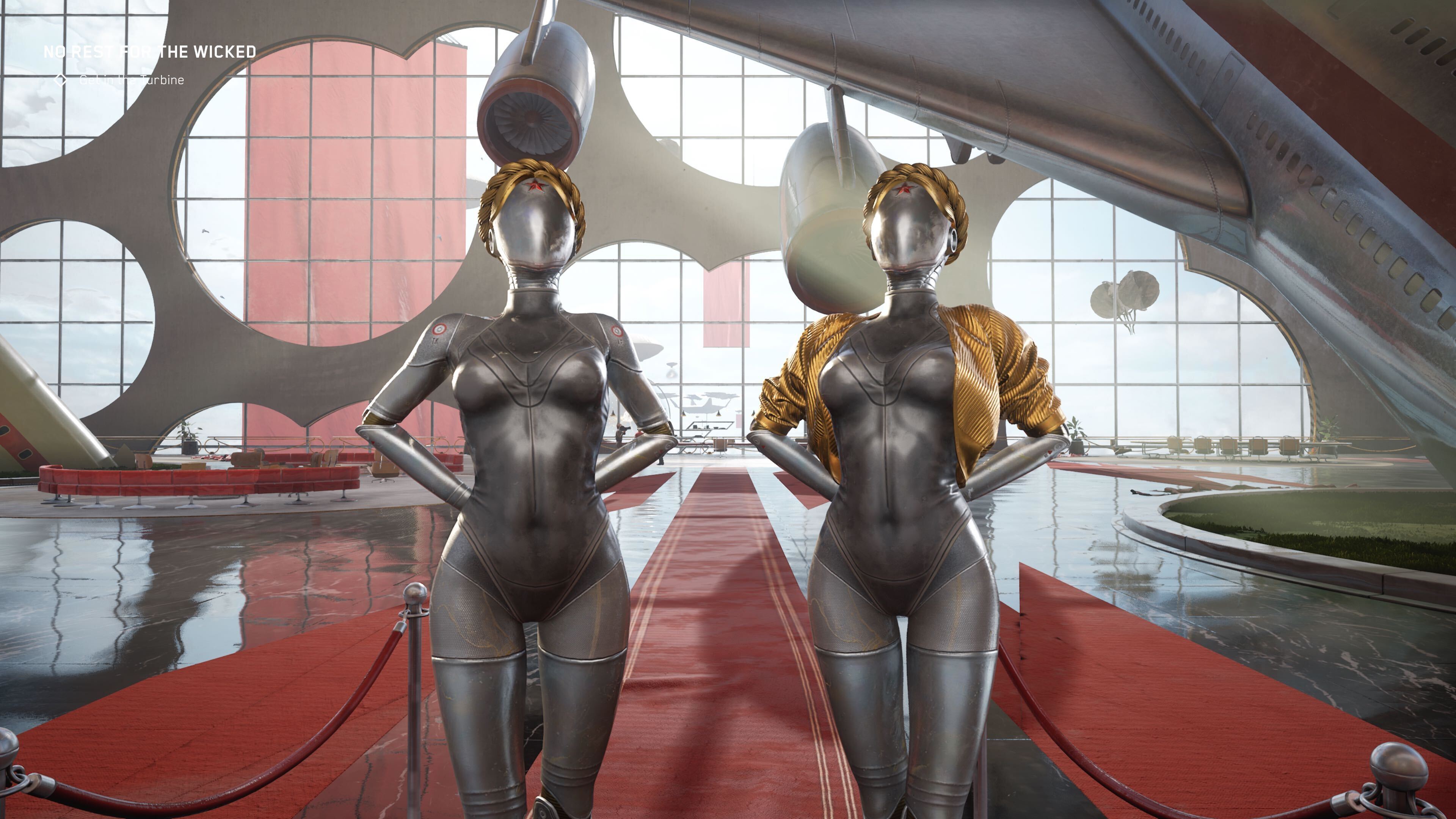 The robots in the game
The robots were first spotted in a battle trailer, released for Gamescom last year (above), which features two female robots dancing, before being penetrated by one another, accompanied by Russian pop music. Not only is it gratuitously sexualized, it uses sapphic imagery in defiance of Russia's anti-LGBT laws.
The iconic hair braid has since been compared to Tymoshenko's.
Directly based on the sex slave robot design by Yulia Tymoshenko… The leader of the Ukrainian political party "Batkivshchyna" pic.twitter.com/Y0hmef2xHB

— Dinka Kay | TENEBRIX (@DinkaKay) February 21, 2023

To view this content, please enable targeting cookies.


Eurogamer has reached out to a Ukrainian representative for more on these issues, but has yet to hear back.