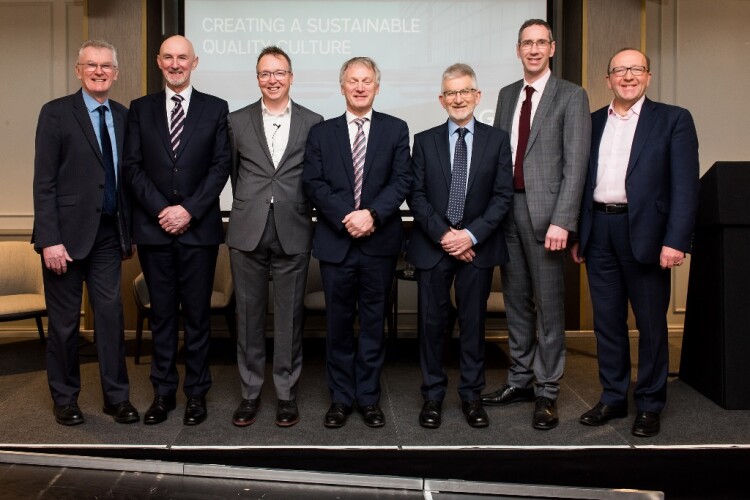 The Construction Quality Improvement Collaborative (CQIC) is described as "a roadmap for quality, sustainability and collaboration across the construction industry".
It is an initiative of the Scottish Construction Alliance, launched in October 2022 to promote workforce diversity, procurement reform, digital technology, modern manufacturing methods, net zero and quality manufacturing.
Industry leaders in Scotland hope the existence of the CQIC map will motivate companies to change the way they do things and put "build quality at the heart of every decision-making".
The map is supported by the Construction Scotland Industry Leadership Group, the Construction Leadership Forum and the Scottish Futures Trust as well as the Scottish Construction Accord

Construction Scotland Industry Leadership Group chairman Ron Fraser said: "As we face some of the biggest challenges we have ever faced, we need to work differently, learn from each other and tackle the things that no longer serve the our industry or our customers.
"While we all aim for the same positive outcomes, we can sometimes find ourselves tackling challenges alone rather than finding ways to work with others. The CQIC initiative wants to change this so that all those involved in projects work together to achieve the expected levels of quality."
Construction Leadership Forum chairman Ivan McKee, who is business minister in the Scottish devolved government, said: "Following the launch of the Construction Accord, the next phase of the Construction Leadership Forum will be one of action and delivery, with quality at focus of this project. We do not underestimate the scale of this challenge and, to succeed, every person must take responsibility for quality. It is encouraging to see the Construction Quality Improvement Collaborative leading the way in championing this important issue and I look forward to seeing quality improvements across the industry."
Peter Reekie, chief executive of infrastructure body Scottish Futures Trust and chair of the Scottish Construction Accord's transformation board, said: "This is a key moment for the construction sector and I know everyone involved is ready to move forward to address the challenges and opportunities set out in the agreement. We all know that getting it right the first time makes economic, environmental and most importantly safety sense. It is also vital if we are to achieve our net zero goal."
Do you have a story? Email news@theconstructionindex.co.uk