This winter, parts of the UK have already been hit by freezing temperatures and heavy snow – but a weather event likely to take place in the coming days has sparked fears the country could soon face an icy blast.
A major sudden stratospheric warming (SSW) event is "now likely" to take place, according to forecasters – and could bring a return of bitterly cold conditions ahead of spring.
Sky News weather producer Chris England says "sudden stratospheric temperatures may lead to cooler conditions in parts of the Northern Hemisphere through their interaction with the jet stream".
But he warned that these "high pressure systems" that form by feeding "cold air from the north and east" are not guaranteed.
What is a sudden stratospheric warming phenomenon?
SSW describes an event where "rapid warming occurs high in the stratosphere", according to the Met Office, but can have consequences for our weather below the surface in the weeks that follow.
It refers to the rapid warming in the stratosphere – between about 10km and 50km above the earth's surface – so high up that we don't feel it on the ground.
The event follows a weakening of winds in what is called the stratospheric polar vortex.
"The cold air then descends very quickly into the polar vortex and this causes the temperature in the stratosphere to rise very quickly, up to 50 degrees Celsius in just a few days; hence the term sudden stratospheric warming," says the Met Office .
This event can affect the shape of the jet stream as cold air sinks in – sometimes leading to a "long period of dry, cold weather" across the UK and northern Europe.
Get the latest 5-day weather forecast wherever you are
It happens every year and will it happen this year?
SSW doesn't happen every year, and when it does, it doesn't always affect our weather.
According to Professor Adam Scaife, head of long-range forecasting at the Met Office, "there is now over an 80% chance of a major SSW occurring" this year.
The UK has been hit by extreme winter snows in recent years, for example the so-called Beast from the East – which happened in 2018.
But just because much of Britain was covered in snow then due to a link with an SSW event – it doesn't mean it will happen again this year.
What could it mean for UK weather and when?
As mentioned, a major SSW event can be linked to freezing temperatures like those seen in 2018 – but there are no guarantees.
Professor Scaife says: "Although the impact will become clearer closer to the time, any effect on UK weather is most likely to occur in late February and March."
Sky's England adds: "Other factors, such as the distribution of hot and cold areas around the world, are also influential.
"When they develop they may push cold weather to other parts of the world, e.g. in China, North America and not in Europe.
"And even when Europe is affected, relatively small changes may mean that Central and Eastern Europe will bear the brunt of the cold."
Read more from Sky News:
Seven of the extreme weather records were broken in 2022
Cold weather alert across England as 'snow moon' approaches to delight sky watchers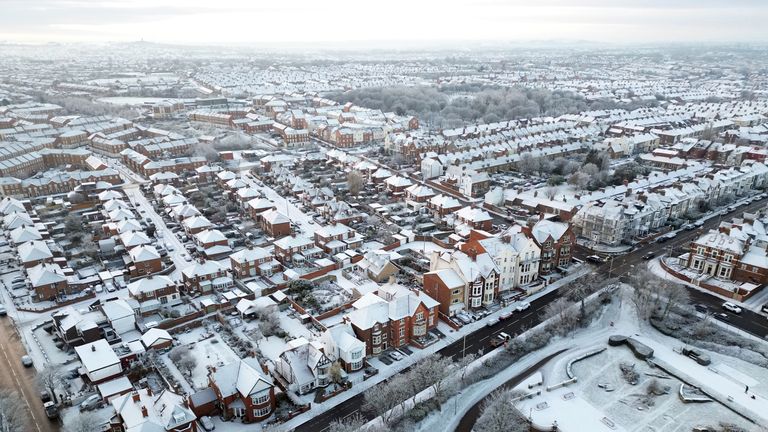 So can the UK handle the heavy snow that will fall in the coming weeks?
In short, no.
Unfortunately, it is too early to tell how weather forecasts will change after an SSW event.
Current forecasts "do not indicate any significant cooling for the UK as a result of the current SSW", England says.
"That's not to say we won't get cold spells – it's cold now after all, but that's due to the normal progression of high and low pressure systems and nothing to do with an SSW."