What had impressed Jurgen Klopp most on Sunday, when he finally watched a repeat of last season's Champions League final defeat by Real Madrid, was the unabashed conviction shown by the Spanish side. how they didn't panic in the low moments, how they knew they would find a way.
Madrid dug a hole here, conceding two early goals – the second after a terrible goalkeeping blunder by Thibaut Courtois. And yet they barely blinked. Instead, it was Liverpool who fell apart at the first sign of trouble, which was the first goal of the night from their nemesis Vinícius Júnior.
Klopp's side had entered with their tails high following Premier League wins over Everton and Newcastle. As they struggle through a transition period, the hope was that they could find a flashpoint. Instead, the extent of the crash was disappointing. The home crowd watched through their fingers as Klopp's players drifted away from their defensive senses, ignoring the basics, their confidence quickly waning.
Alisson was badly at fault for Vinicius' equalizer on 36 minutes and the second half was a run for Madrid, their dominance – and Liverpool's woes – highlighted when Luka Modric raced through a non-existent midfield to find Vinicius, the who squared for Karim Benzema. The striker checked, putting Alisson on the floor before almost playing the red shirts around him. Then he shot into the house. That made it 5-2 and was Benzema's second. Militão had made it 3-2 and were doing a horrible job of overcoming Liverpool's concessions. This tie looks to be over. The same could be said of Liverpool's season.
Real is the champion of Spain and Europe. the Club World Cup champions, too, having beaten Al-Hilal in Morocco 10 days earlier. Klopp probably has a few more ways to describe them, and the history his Liverpool side have with them was an inevitable subplot – at least the pair of final defeats in this competition plus a quarter-final exit in between.
It was about focus for Liverpool, taking advantage of Anfield's strength, playing only what was in front of them, which was a bold Madrid line-up, Ancelotti including Rodrigo from the start which meant Federico Valverde in midfield.
Klopp's side found their way early on, the opening goal marked by a series of impressive contributions, Stefan Beisetic making the first – a neat piece of control on a broken ball followed by a volleyed pass to Jordan Henderson. When the captain fed Mohamed Salah down the right, Nouneth – who came in from the left – sensed the opportunity. When Salah formed a low cross, Núñez was on hand.
The Uruguayan has been in doubt over his fitness after picking up a knock on his shoulder at Newcastle on Saturday. But his athleticism was there for all to see, a controlled jump followed by a back-footed move that filled out quite a bit.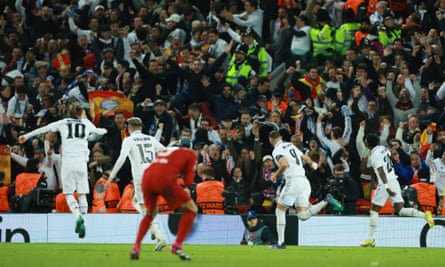 Courtois was a helpless bystander. Soon after, he was miserable and beside himself. The goalkeeper knew what he wanted to do when he addressed a Dani Carvajal back with Salah present. His brain told him to play it with his left foot. But somewhere there was a crossed wire. Courtois' right knee intervened and the ball simply bounced off him, straight to Salah, for whom the finish was easy.
Salah was rampant at the start. At 1-0, moments after Virgil van Dijk made an important block to deny Rodrygo, Salah ran at David Alaba and appeared to run him down. Ignoring Núñez in midfield, he curled wide of the near post. Alaba would be forced to leave. Salah had turned him in every direction.
It didn't look good for Madrid at that stage. But then the picture became brighter. When you have Vinícius Júnior in your ranks, that's what tends to happen. When he took possession in heavy traffic on the left side of the area, it didn't seem like much. But when Fabinho stepped the wrong way and Joe Gomez didn't tighten up enough, Vinicius curled a vicious curler into the far corner.
It was a strange first half, lacking structure due to the laxity of the defense from both sides. It seemed so easy to pick out passes, play through the lines or behind the full-backs. Real almost parried Salah and then Núñez in a scrum before, at the other end, Alisson pushed away another Vinícius iron. It was a good save. The goalkeeper's descent to zero was chilling.
Alisson had time to pick his pass after Gomez came back to him, even though Vinicius was on the scene. Maybe he had too much time. Alisson tried to go right with a side foot, instead of putting his boot through it, and the ball just beat Vinicius and flew in. Real almost ended the half in front but Andy Robertson got back to head home Rodrigo at the far post after yet another Vinícius cut-back.
Last season's final was on everyone's mind, particularly how football was overcome by organizational chaos, brutality and thuggery. It was UEFA's fault and the Champions League aria – synonymous with them – was always going to be booed by the Kop. "Fuck Uefa", they sang before kick-off. There were also various banners against the ruling body.
Back in action and back in the white defence, Madrid's goal to make it 3-2 early in the second half was about not marking a Luka Modric free-kick. Éder Militão made a simple run, felt that no one was going with him and went home.
It went from bad to worse for Liverpool and Gomez, who endured a night when nothing went right for him. Karim Benzema played a gift on the edge of the area and didn't really get his shot. Alisson appeared to have it covered only to be deflected by Gomez and foul him.