Tributes have been paid to Ghanaian and former Premier League footballer Christian Atsu, who was found dead under the rubble of his home in the earthquake in Turkey.
A minute's ovation for Atsu was heard at St James' Park on Saturday before Newcastle United's game against Liverpool, attended by his wife and children. Atsu spent five years at Newcastle from 2016 to 2021.
There were also standing ovations at other Premier League games on Saturday in his memory.
The 31-year-old, who played for Super Lig side Hatayspor, was falsely reported to have been taken to hospital last week.
It had been missing in Attakia since the earthquakes that hit Turkey and Syria on February 6, killing tens of thousands of people.
Nana Sechere he tweeted: "It is with a heavy heart that I must announce to all well-wishers that unfortunately Christian Atsu's body was recovered this morning. My deepest condolences to his family and loved ones.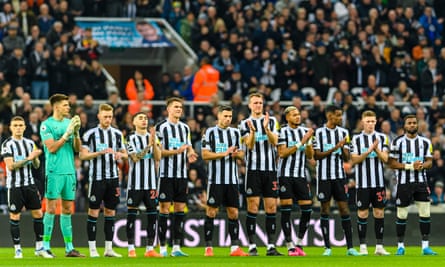 "I would like to take this opportunity to thank everyone for their prayers and support. I ask, while we make the necessary arrangements, that everyone please respect the family's privacy during this very difficult time."
Newcastle have paid tribute to their former player on Twitter. "It is with deep sadness that we learn that Christian Atsu has tragically lost his life in the devastating earthquakes in Turkey. A talented player and a special person, he will always be fondly remembered by our players, staff and supporters. Rest in peace, Christian."
Newcastle manager Eddie Howe told Sky Sports: "We are treating it as a tragedy and our thoughts and prayers are with him and his family. We want to support them right now."
Former Newcastle boss Rafael Benitez said he had been in contact with Atsu last month.
He told Sky Sports: "It's really sad because he was a nice, nice, special person.
"He was a good professional. I'm not talking about whether he's a good player or not, he was a nice lad and a good player, but mostly a very good person.
"So a special person and everyone always, you can see the pictures, always with a smile playing or not playing."
After spending part of his youth career at Feyenoord's academy in Ghana, Atsu joined Porto in 2011 before signing for Chelsea two years later for a fee of £3.5m. He did not play for the Blues first team and was loaned out to Vitesse, Bournemouth, Everton and Malaga.
Atsu made 75 appearances for the Magpies before moving to Saudi Arabia's Al-Raed and then Hatayspor. On February 5, Atsu came on as a substitute and scored the winning goal against Kasimpasa, the day before two deadly earthquakes hit southeastern Turkey.
Away from football, Atsu was an ambassador for Arms Around the Child, a children's charity based in Ghana, South Africa and India that provides homes, protection, education and support to children.
In a statement, Everton said: "We are deeply saddened by today's news that Christian Atsu has been found dead following the earthquake in Turkey earlier this month. Our thoughts are with his family, friends, colleagues at Hatayspor and everyone affected by this tragic event that took so many lives."
A statement from the Premier League said: "We are deeply saddened by the news that Christian Atsu has lost his life in the devastation of the earthquakes in Turkey and Syria. Our thoughts and condolences go out to Christian's family and friends and to all those affected by this tragic event."