Bold, romantic and starkly dark are some of the thoughts that immediately came to mind as the line of clothes descended the staircase and moved across the room at the Cooper Hewitt, Smithsonian Design Museum for Willy Chavarria's Fall/Winter 2023 exhibition. Over the years, Willy Chavarria has quickly become one of the most anticipated shows on the New York Fashion Week calendar, and rightfully so. Chavarria's prowess for stylishly elegant yet culturally multi-dimensional tailored pieces continues to captivate and the latest only adds to his strong catalog.
As Chavarria was the winner of the 2022 Cooper Hewitt National Design Award in Fashion, it only made sense to present his latest collection at the exquisite venue. Amid the backdrop of rich wood molding and ornate walls, Chavarria's KANGAROO offered an exhibition of protection, elegance and strength. Entirely cloaked in black with minimal bits of white, the collection created an impenetrable mood from the start. But what Chavarria's omission of color really delivered was an excessive attention to shape, craftsmanship, movement and fabric. It's especially easy to get lost in the similarity when one color precedes it, but interestingly enough, the collection's one color served as a compass – doubly providing a balance between dark and light.
Marking Chavarria's first exposure to evening wear, the collection's focus on ample and luscious proportions was turned through pleated silk skirts, bold bow blouses, long and oversized heavy blouses, boxy blouses in long and cropped configurations, relaxed silk suit pants, minimal outerwear and more. While these pieces each contained that element of modern Chavarria seduction, the jewel of the collection lay in her coats and dresses.
Whether the coats stopped below the knee or kissed the floor, the designs found their magic through striking shoulders, large lapels, nipped waists and straight or open cuts. Coats appeared in velvet, wool and silk fabrics along with subtle design details such as crisp white trim, high collars or contrasting fabric lapels. Almost similar to the line of coats, dresses are realized in silk, cotton and velvet fabric – often drawing their design style from double-breasted blazers and seamless cloak-like pieces. Regardless of the style, what makes the whole offering that much more powerful is that it's almost completely genderless.
Although the collection may be visually a little mixed compared to Chavarria's previous work, the latest elevates his creative versatility as both a designer and purveyor of distinguished taste.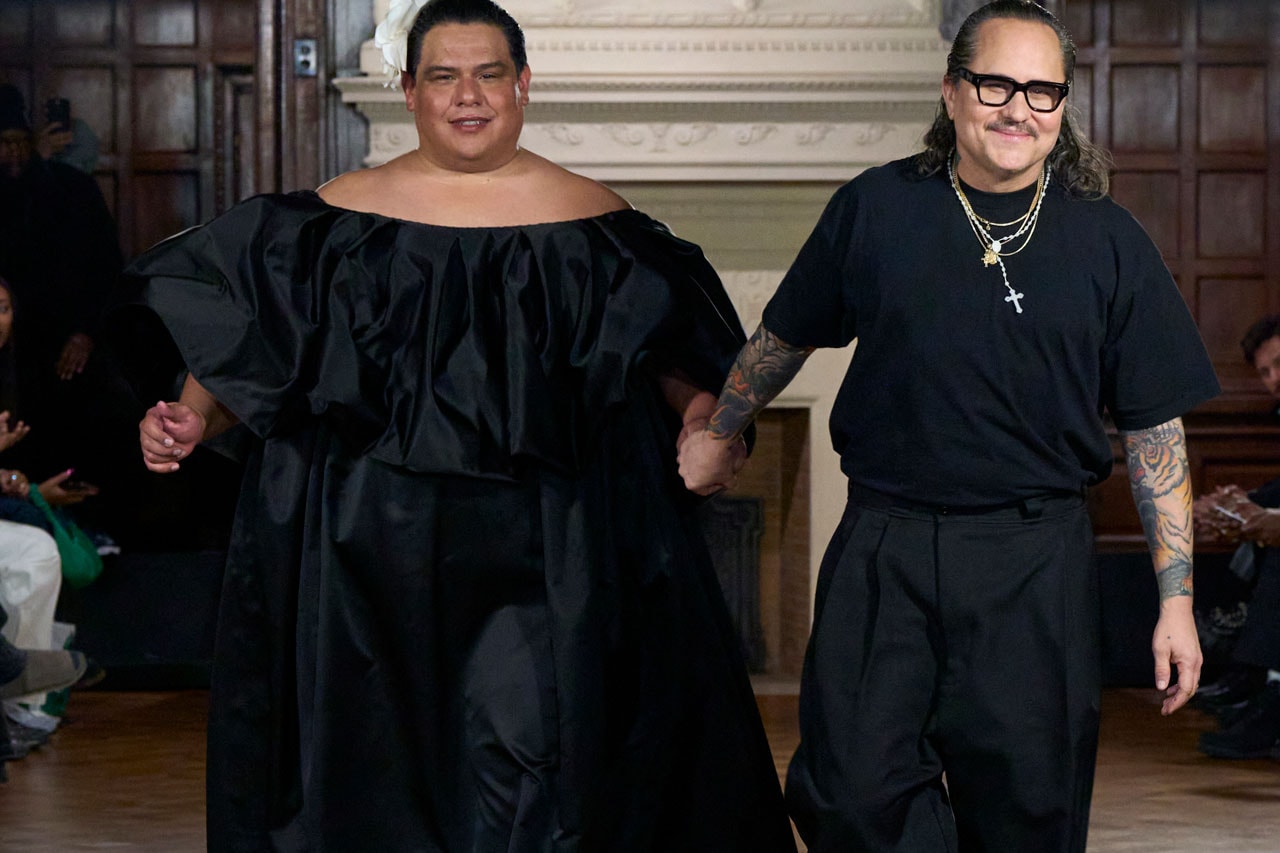 Check out Chavarria's FW23 KANGAROO collection in the gallery above.
In other New York Fashion Week news, Who Decides War captures native New York style for FW23.